Let me introduce myself and let you know a part of my life on my blog.
For my profile, what I was doing so far and what I am doing now is on "About Me".
And I am active on Instagram and also on Facebook Page, mainly!
This is about my Cosplay Life with over 15+ years.
—–
I was doing cosplay for almost 20years but I had been a fund manager of stocks and alternative assets for 10 years since I graduated from a Japanese and foreign financial institution (so called buy-side). I left a mega-bank(Mitsui Sumitomo Bank) last year, and now I get independent, but I am still in financial area as my side business too.
This time is a good opportunity, so I would like to write mainly about how to get into cosplay and why I went out to the world.
1.Until Became a Cosplayer
The first time I did cosplay was in my second year of high school. I went to a conventions for the first time, and I was praised by the veteran cosplayers who I really respect, then they suprising said to me "You are so cute!", that was the start of my cosplay life. I was bullied because I had a serious disease that required surgery operation when I was in elementary and junior high school, then I totally have lost my confident on everything in my life…..
So the word "It's cute." was the greatest treasure of the time, and changed my life.
Also, at that time, Otaku and Cosplay have got much more discrimination than now, and I remember that I made up my costume without telling my parents, and on the day I went to the cosplay conveniton for the first time, my parents got very angdy and saying, "Where did you go today!?".
Thanks to cosplay, through the creating of hundreds of clothes, wigs, and props, I came to love not only creating something from zero, but also makeup and fashion, and also deepened my knowledge of photography and the expression of art, so I am really happy and appreciate to cosplay!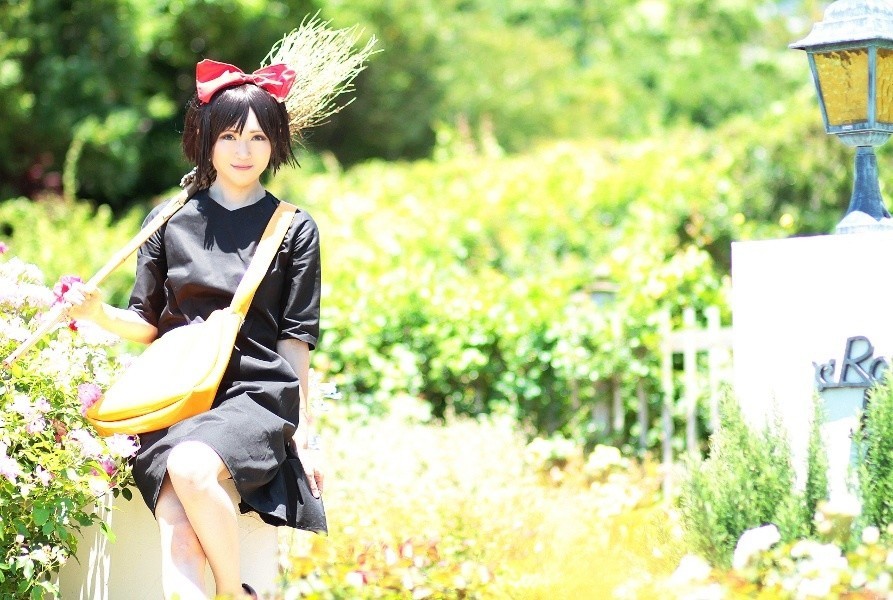 I also have absolute pitch, so when I was in high school, I composed more than 100 game musics such as Final Fantasy and Persona since I can copy and make music score using my perfect pitch, and I also organized a website for Midi music.
I made it so seriously when I was in high school.
From there, I was in charge of BGM for the cultural festival plays, and I also made music for Webgame.
I enjoyed composing so much that I even wanted to go to a music college. However, I was not able to convince my parents.
And even then I thought "If I go to the university, I will have more time, so I can do more cosplay. And I can meet with other cosplayers too!!".
Only from that reasons, I entered the economics department of a four-year university.
As I said above, I didn't have a big aim or dream of the future and I was just thinking about "I want to do a lot of fun things.".
2.Travel around the world as a backpacker
I was totally crazy for cosplay when I was in college, and I was really happy to be able to meet new people of all kinds of ages and backgrounds through cosplay.
Then one day, some of my dear cosplay senpai friends kindly said to me,
"Hikari, after you graduate from your university, you must feel that you have no time to take longer holidays (Especially it is true in Japan then). So we think you should make good use of her time, as the student with plenty of time.".
Thank you my dear cosplay senpai, then by that advice, I decided to travel around the world by backpack around the world, that I wanted to do the most, and I made it.
I was very interested in a country that every other Japanese had never been to. I remember that I went to more than 40 countries in total, mainly rare countries. I even went to Syria, which is hard to go now. I went to Israel (Jericho and Hebron and Bethlehem and Jerusalem). It was a very interesting country that I couldn't write in a few lines.
As a volunteer activities, I went to Alaska when I was 20 years old.
In Alaska, where I had always wanted to go, I worked as a support crew for the world's largest wheelchair race that took seven days to run the Anchorage-Fairbanks.
I worked with an Alaskan aboriginal sister and I to support a Salvadoran wheelchair athlete. My aboriginal sister told me at the beginning, "Are Japanese people living in a country that is too rich to do anything?" and the racers made me realize through my experience that "The self-satisfaction I feel helped is not volunteer." through their involvement in the harsh and hard races.
More than anything, the most impressive thing for me as a student was that the wheelchair racers had more energy to live than normal Japanese people.
At the age of 21, I traveled around 13 eastern european countries including Russia in a two-month trip.
My itinerary was as follows: Russia (Moscow St. Petersburg) – Ukraine (Kiev Riviv) – Hungary (Budapest) – Croatia (Zagreb Pritovice Dobrovnik) – Bosnia (Sarajevo Mostar) – Montenegro (Podgorica, Kottle) – Serbia (Belgrade) – Romania (Bucharest Blashov) – Bulgaria (Sofia Velikotarnovo) – Macedonia (Skopje Oslide) – Albania (Tirana) – Turkey (Istanbul) – Uzbekistan (Tashkent Samarkand).
I started in Russia, and on the first day I arrived in Japan, I knew only two Russian sentences, "Delicious (Вкусные)" and "Do you have a pen? (У вас есть ручка?)", but as I met various people, after two months, I became able to speak daily conversation and read the Cyrillic script there.
In Uzbekistan, the last place I went, I was able to take other foreign backpackers to a restaurant that only had a local language menu and help to order for everyone in their local language.
Below photo are with Serbian University student, Milica, who met in the train from Montenegro to Serbia!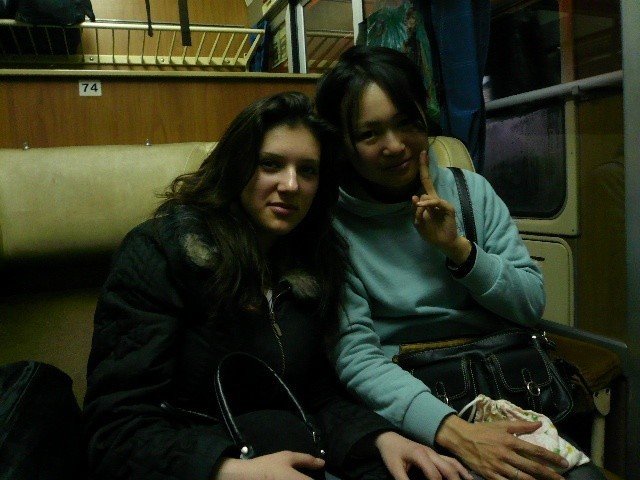 I met many people, and on the night train from Russia to Ukraine, I made friends with Russian people in the same compartment and Ukrainian girls and drank vodka.
In Montenegro, there was no hotel, so I stayed at a local house and ate dinner together while playing with their baby. I had countless memories.
What impressed me most was Laura, a Romanian who I met on a night train from Serbia to Romania. She was 35 years old at the time, a journalist working for Romania's state-run TV.
We were in the same compartment on the night train. She was studying at a university in France and this was the memorable day she had returned to Romania in several years.
She was writing a proposal to create a TV documentary program about a traditional Romanian female singer. I listened to the singer's music and wrote a music score in front of her with using absolute pitch and gave it to her as a present. She was very pleased.We talked about each other's lives all night on the night train.
Laura asked me "Why are you as 21 years traveling alone in such far eastern european countries? What do you want to do in your life? and so on.
I think then I said "My mother got serious depression as disease and once in the hospital and I didn't know how to deal with that. That's why I thought that I should know the world, cheer up my parents, and for me I do not want to be depression like my mother, so I would like to have a stronger and broader mind by traveling around the world by myself.".
Later, when the train arrived in Bucharest, Romania, she invited me to her home for lunch and her mother cooked us some delicious Rumanian food. After that lunch, Laura showed me around Romania a lot. She took me to the slums and the site of the city hall built by Ceausescu with civil tax and then said, "I wanted to see both the light and the shadow of Romania." and "I couldn't go out from Romania when Romania was in communism. After it gets opened, I finally went out to France to study.".
At night, I was kindly invited to "Welcome back party for Laura" which was organized by Laura's dear friends.
They dared to speak to me in English, not in the local language of Romanian. One of her friend said, "I admire your courage to do something new you've never done before, and also I truly admire the courage you've got to come all the way to Romania and go around the Eastern European countires by yourself.".
She gave me a bouquet as a gift since that day was woman's day.
When I left Romania for Bulgaria as my last farewell, when I thanked her from deep in my mind with my handwriting letter to her, Laura said to me with lots of smiling,
"I was same with you, when I was young and traveling, then I got a lot of amazing help from others as strangers, so I gave it back to you. You do not need to return it to me, but please give it back to others who need your help in future."
Later I realized that what Laura said was about "Pay it Forward". And for me, she was the first person to let me realize that concept through real experience.
I truly appreciate to her and what she provided me changed my mind and life lots.
Thank you very much, Laura.
Maybe because of this experience, I am now showing many foreign otaku and cosplayers around in Japan. Germany, America, Vietnam, China …I think this experience is one of the most precious experience on me.
3.Cosplaying in the World
After I became a institutional investor in Japan, I couldn't do cosplay for almost three years. I got up at 5 am every day, worked and studied until late at night, and even on Saturdays and Sundays, I stayed in Starbucks from 6 am until night to study.
I spent a lot of money on my profession of investment and economics studies sucy as buying many books.
In the world of investment, there are so many new things to know, and for me, everything was new and exciting!
However, after the financial cricis with the collapse of Lehman Brothers, then my work have got very very tough and I couldn't put up with that anymore because of tons of stress, so I restarted my cosplay activities.
Then I strongly thought I want to express my favorite character in cosplay!
At that time, I was truly crazy for "Hetalia", so I devoted all my energy to create new cosplay works and put that on the internet.
And then when I started DeviantArt, because of that, I could meet lots of amazing foreign friends!!! I was very very happy on it.
At the time of the Great East Japan Earthquake in 2011, I have received over 200 e-mails saying "Hikari, are you safe?" arrived in one night. Then I was very surprised since I have got many messages also from some "silent" users, who have not left comment but who recognized me for long from the beginning.
When I traveled around the world by cosplay, I visited almost 10 countries including Germany, Spain, Thailand, Hong Kong and Taiwan. No matter which conventions I have been to, there were many amazing friends. And also some dear friends already met on DeviantArt really knew about my cosplay and it helped me to make friends easier to many amazing cosplayers, I would like to say thank you very much for the internet! I went to some specific countries many times, and then I got help from local cosplayers' friends, it was very very amazing experiences.
There were many people in the world of cosplay. These amazing experiences gave me that there was a difference, but we all felt the same thing deep inside, I recognized that again strongly since my experiences of backpacker. Even in cosplay, I met many amazing and memorable friends that I couldn't finish writing here!
This is a photo of Connichi 2011, held in Hessen, Germany, taken by dear Anke!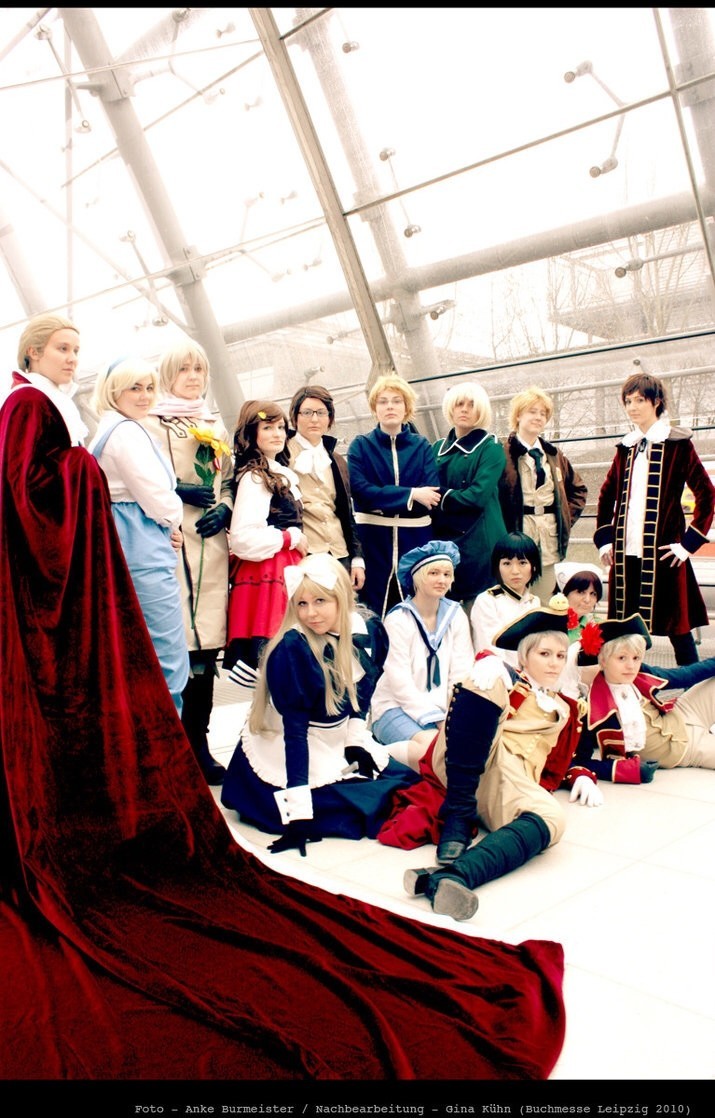 And also my dear German friend Wana made a video(I am there at 0: 15!) ↓
And when I traveled around by cosplay, then I already can speak Russian and Indonesian at a daily conversation level through backpackers/homestay experiences, which helped me get friends with much more people overseas. Furthermore, not only the language, but also the understanding and loving countries that I have been before by backpacker with the feeling of "That country was a wonderful country. The people I met in that country were wonderful!", helped me to meet much more new wonderful people all over the world!
By the way, I stopped my cosplay activities once a few years ago.
At that time, I had a chance to work on Wall Street in New York on my financial job, and it was a really big deal for me since it is very few chance that rarely came on our career.
And then after thinking lots, to focus on my financial career, I deleted all the cosplay websites and SNSs.
Soon after that, when I deleted all the SNSs on the Internet, dear foreign friends immediately writing "Hikari, where did you go? We want you to come back.". All the pictures I deleted were re-uploaded by them. On my official FB page, some dear friends wrote "Hikari was kind to everyone and fear to everyone even though she/he is not cosplayer, and recognized everyone who taked to her, I love her." and "I was so happy that I had never seen such a Japanese cosplayer talk to everyone fairly with kindness.".
I didn't think that the dear friends all over the world were looking at me with the inside of me as such, not just the appearances. Then I cried a lot by moved lots when I saw those comments.
And also then it was a bit of a mess because many people came to talk to me in Japan thinking of the business. I remember thinking to myself, "I can make my own business. Be confident and come back in 5 years." with the meaning of resetting.
And decided to focus on financial area for a few years without doing cosplay then….
And now, almost over 5 years have passed since then, and I came back as I promised by myself!
4.Financial Career
By the way, I have been in the financial industry since new graduate. The following article on Nikkei Quick, as the largist financial newswire in Japan has written very summerized and great article of me of the career in finance.
*Finance giri as Cosplayer get Indevendent on Otaku Entrepreneur!
And that was written in Japanese, so there is the translation;
>>This is the post with English translation of that article
I have worked for 10 years as a institutional investor in the investment sector, including investing in equity economists, economic analysts, private equity funds and hedge funds. In 2015, I had a great opportunity to work in Wall Street in New York at the U.S. headquarters of a foreign financial institution.
I learned a lot from in finance area too. Through my experience, I learned ther eal economy that changed by political and economic trends and corporate performance.
My initial boss said, "Whatever the professinal and veteran economist say about economic indicators, market trends, company earnings and financial numbers, don't take it as true or the best and do not think that just you're young and not matured, and please take it importance on what you feel first from you look at the data.".
In addition to the U.S. jobless recovery from the collapse of Lehman Brothers (the U.S. was recovering faster than Japan, and consumer activity was recovering rapidly in US), it was really good that I was able to see that US economic realtime situation in real time. I love talking about the economy and market of Japan and overseas, so please tell me if you are interested in it too!
5. As the Last
I always thought I would quit cosplay.
I thought over and over that I am too old to cosplay.
But I'm back! Because I really like everyone who I have met in cosplay and it is a treasure of life.
Those who have known me up until now (It's more than 10 years for a longer friends!), those who have recently known me, and those who have just now known me for the first time, I feel that all grateful and I am very happy to meet you all!
Thank you for finding and meeting me, and I hope I can continue my cosplay activities happily!!
Cosplay Instagram:https://www.instagram.com/hikari_green/