Now, I'm going to write about my first backpack trip since I started working!
Last time we talked about studying in Ireland, but this time is about India.
Backpacker (2005) Ireland: Galway/Alan Islands/Cork/Dingle
By the way, the thumbnail is the Taiwan of Heralia!!
I started to think that I would quit backpacking when I graduated from university, but then I started backpacking again by this India 。。。
Right after the collapse of Lehman Brothers, financial crisis, I had a lot of work on my job, and as a result of the intense tension in my workplace, I have got a bit harassment, and I was suffering from facial paralysis due to the stress of that.
When I put on my makeup, the feeling of my face was paralyzed and I didn't know where to draw it.
Partly for this reason, I went to India to be healed and for a change.
By the way, my facial paralysis was gone when I went to India!
It seems that the cause is the work stress!!!
Special gift by the president
Actually, about two weeks before I went on a backpacking trip to India, my department held a "Drinking party with the President".
The president himself had a drink with the members of each department, and on the day of the drinking party with the investment department where I was working.
At that time, I was at a typical good old Japanese big company.
Then, when I said to the president, "I read the president's column last month. The president went to India and had a great experience!! I'm going to India in two weeks!" Then he suddenly became excited and said, "That is right!! Listen to my story about India!" and began to talk.
The episode of the president was so intense that when the president was still a student (That was more than 40 years ago.), he got on a night train, and there an Indian who pretended to be friendly with him put his drink a sleeping pill, and nearly ran away with robbing luggage from the president.
The president jumped out of the train and ran after it, but then the Indian stabbed the president in the leg several times and ran away.
The president collapsed in an unmanned train station at night and was unable to move, when a Japanese priest was coming by chance and saved him luckily ….
And I heard that the priest is now the owner of a food store of Japan in Delhi, India.
When the president heard that I was going to India, he said, "Now that I am in this position, I cannot go to India easily, so please give him my present instead.".
I took it and headed it for India.
Have a severe stomachache
I got on a local regular bus from the airport and managed to get to the hostel!
It was a Japanese hostel, but I had a huge stomachache there from the first day …!
There was a food carry-on party at night where a girl would say, "Let's eat this!" and serve yakitori that she bought at a street stall.
When I was in Indonesia in college, I thought, "We can't eat yakitori at the food stall since it must brake our stomach!!" but here I ate that yakitori at the strong recommendation of that Japanese girl, who said, "It's delicious! Hey!"….
And the way it was broken stomach was something so terrible that it couldn't be compared to the level that happened in Japan, and I was almost dying all the way….
A too brave guy
I was thinking of going to that Japanese food store for the president, but I made friends with a Japanese boy at the entrance of that hostel I stayed.
He said he was a university student (He said he was a local yankee), and he said his father was the mayor of his hometown, Shikoku area of Japan.
Contrary to his look, he seemed to be very familiar with politics, maybe because of his father's job.
(If I remember correctly, Prime Minister Hatoyama had just taken prime minister then and Japan was in a festival mode at the time, but even at the time he was already saying "Hatoyama is not good, the immigration policy must be stopped." and "The Democratic Party has no diplomatic fundamental with the United States, so the coming relationship with the United States is at risk.")
I ended up getting along with him and he helped me buy a ticket to Varanasi!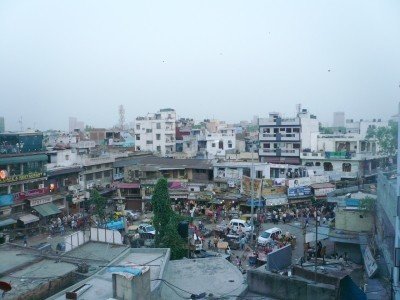 Indian rip-off
In Delhi, in the first place, when I was walking, there were many cases where mysterious Indians chased me saying "I was studying at a Japanese university, and I will guide you."….
Also, I was told that never go to the money changer in town! You'll get ripped off!
I travelled to the suburbs of Delhi by Autorickshaw and was able to meet the president's benefactor safely.
By the way, the driver of the auto-rickshaw was perfectly normal when I was with that guy wrote above, but as soon as he got off the car, the driver ripped me off.
"I took a shortcut now, so the fare is double."
The driver began to say suddenly.
I said "Eigo Wakarima Sen—-!!(I don't understand English ~ ~)" in Japanese.
Then silence came.
And at the end, as if nothing had happened, I handed the driver a normal fare of that.
The driver didn't know how to charge it to double in Japanese, so he just took it silently and accepted.
By the way, I think this "I don't understand English." tactics can be applied in a country like India.
Because there are many tourists and they have many other targets even if they don't took much time on me.
India was said to be an undeveloped area, but in fact, I had an impression of it as a typical famous well-developed tourist spot that was extremely used to tourists.
To be honest, in a real savage place, if you don't pay, you're going to be shot to death right away … so in a real savage place, even if you're ripped off, it's better not to show a strange resistance.
Meet the president's benefactor
In this way, I was able to meet the president's saying man safely!
In his shop, I bought some Japanese sweets (Kotsubukko) there.
I also gave the gift from the president (It was a nice Sensu) and took a picture of that man to send to the president.
Actually, I was going to Bangladesh at the end of my itinerary.
I was thinking of taking an overnight bus from Calcutta to Bangladesh.
That's why I got a visa for Bangladesh first.
But I stopped going to Bangladesh on this night bus because that man said, "Please don't take that bus because it's really dangerous.".
In fact, I've heard that there are many cases where luggage is stolen on the bus….
So I believe what that man said and I decided not to go.
Next is Varanasi and Calcutta in India!!