Hello! This time, about Albania.
By the way, if anyone has been to Albania, I would love to talk to them.
I think it's not a major country especially for Japanese people.
Last time was North Macedonia! This is also not a major country.
Backpacker Travels (2007) Macedonia: Skopje & Ohrid
Albania was a country where there was no Japanese guidebook to travel (As of 2007).
When I looked up about this country by Internet before going, it was written that many of the robberies and pickpockets in Italy are Albanian immigrants, and the relations between Albania and neighboring countries are not good ….
The economic level was also kind of the lowest in Europe.
And this is the national flag of Albania!!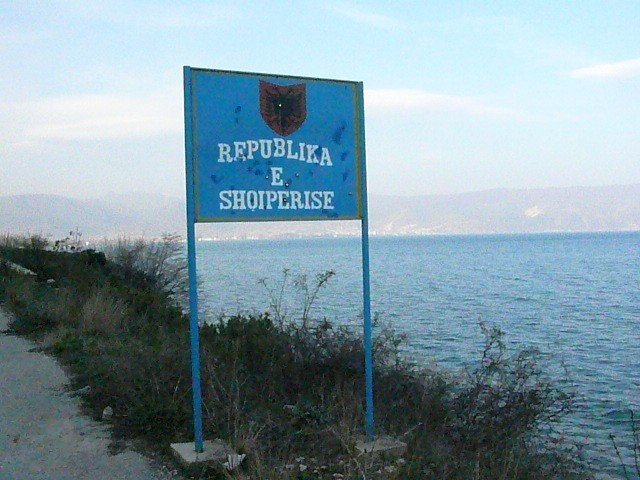 Head for Tirana only with a handwritten paper, without a map or guidebook
I worried and thought "It seems to be not a safety country.", but anyway, I decided to go!!!
I just found my handwritten with great detail, so I will write by looking at it and remembering it.
At 6: 15 I took a bus from Ohrid to Svet-Naum, just as Antonio told me.
On the way, one stranger guy suddenly stopped his car and said, "I'll take you there!" and honked his horn, but I thought he must be going in the wrong direction, so I said "no" to him.
Well, when I got to Svet-Naum, I walked across the border to Albania.
I got stamp at the border and continue walking along the coastal road for about 30 minutes to an hour.
Antonio's memo said that "If you walk that far, you will find a taxi and then you can ask "Please take me to Pogradets!"".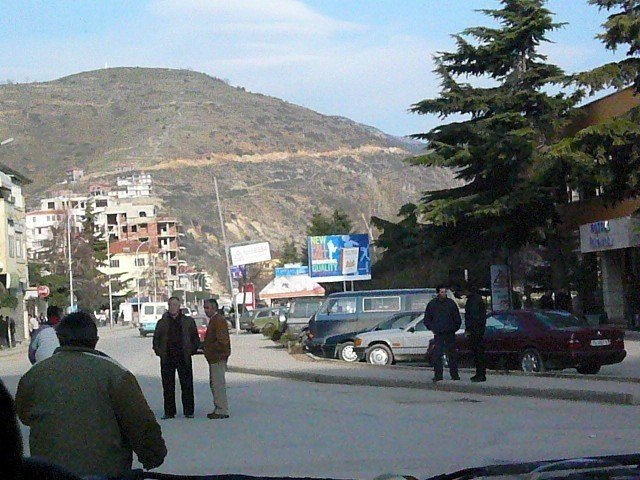 And as he told, I found taxi after 1hour walk and I told the taxi driver as I was told and I got to Pogradets safely.
From there, Antonio said, There is a shared van which bounds for Tirana.
I didn't know which van goes to Tirana, so I asked an elderly couple which one is that.
Then, the elderly couple kindly told me which one is it and then said, "Do not forget to pay the money to the driver!" and shook hands and left.
I am happy that I can ask kind person as such.
By the way, it took about 4 and a half hours by the van from Pogradets to Tirana …!!! It is very long!!!
And the van climbed up and down several high mountains many times, and went around the steep slope of the mountain, so because of that, one child rode together got carsick and got sick in the van….
This is the scenery between Pogradets and Tirana.
In my opinion, it was the best scenery in this Eastern Europe trip …!!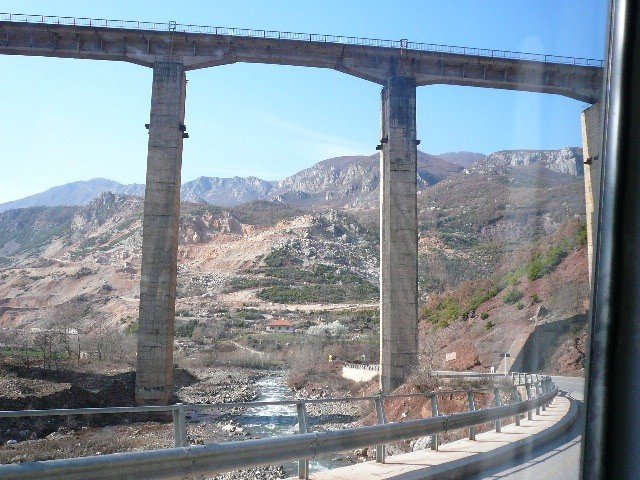 It was untouched nature, very beautiful and really wonderful. It would be a shame if they were not known.
And after four and a half hours that van managed to reach Tirana.
Walk around in Tirana and the Gypsies (Roma)
I arrived safely at the hotel in Tirana!
After I arrived at Tirana, I followed what Antonio had told me to do, and after about 10 minutes of walk finally arrived …!
It's Tirana, but I think this square is very popular.
Also, compared to Eastern Europe and the neighboring countries of pre-Yugoslavia, it has a Latin atmosphere!
The language is not Cyrillic, Romania and Albania are more like Latino!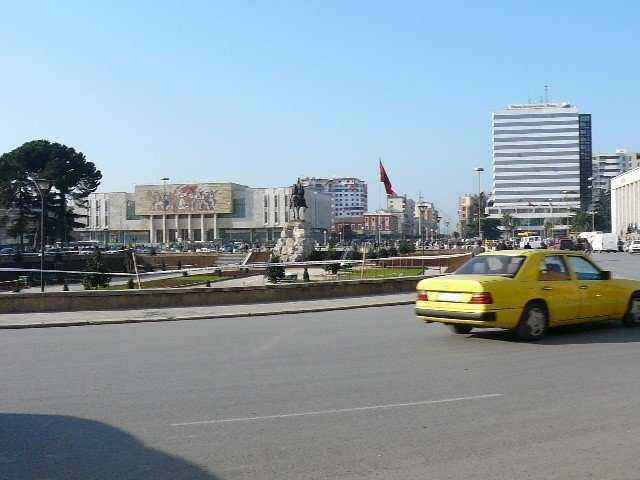 Also, I recognized after I arrived but the coastline of Albania is a place to go on vacation for eastern European people!! I can't say "It is completely safe!", but it was a very interesting and lively city!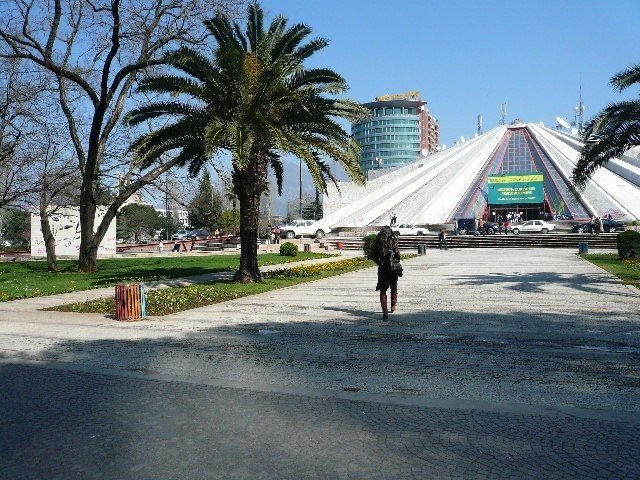 I ate a lot of ice cream, it is very delicious.
I feel I have eaten three a day, and it is very cheaper.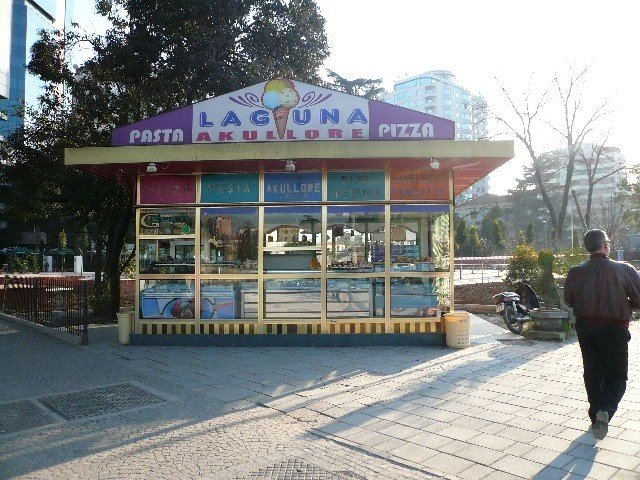 And there were so many Gypsy children in the park that they ran after me saying, "Give me that sweets on your bag!".
Then I said "This is my lunch, so no!", and they screamed "Stingy!!" and I was kicked from behind…
When I was asked to give candy at another place again by gypsy children, I gave her some candy and then she looks very happy.
Also, the owner of the hotel gave me a CD of a singer from Kosovo!!!
This place is pretty close to Kosovo. I just remembered when I wrote it.
I took a picture with everyone in the hotel!!! All was a European backpacker.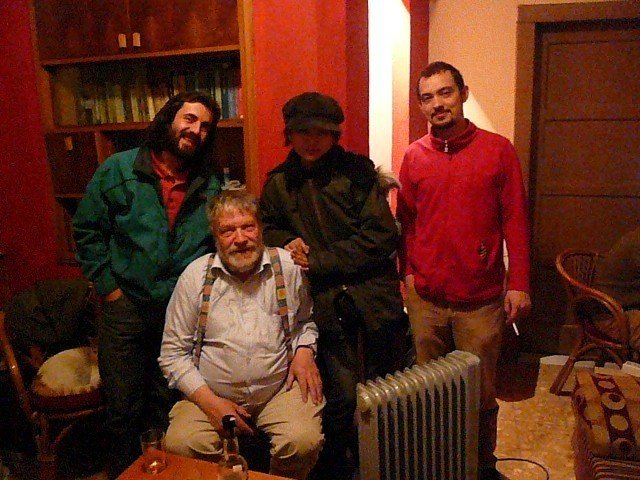 The night bus of terror and the bus driver of God
By the way, I went back to Skopje by night bus from here.
But this night bus makes me scared even if I remember it now …!!
Two local guys sitting nearby on the bus as passengers were often talking to me.
When I said "I collect CDs of popular local singers for each countries." then they gave me a CD of the Albanian singer.
In addition, in the parking area on the way, they said "Let's have a meal together." it looks like they want to get friends.
It was already midnight because it was an overnight bus.
(I choose overnight bus since I would like to arrive at the daytime, not to be danger)
In the parking area, these two guys said to me,
"Hey, let's go to the bathroom togather."
These guys pointed over there, but over there, there was a darker place rather than a toilet.
I was only 20 years old at the time, and these guys treated me kindly in many ways, So I tried to follow them innocently, saying "What? The bathroom?" … I still feel horrible at my careless thought now, and also my own stupidity.
But then the night bus driver, who recognized that, and stepped in.
"Hey girl, you should sleep in the bus! Never get out of the bus, OK?"
He pushed me into the bus.
Then, outside the bus, the two guys and the bus driver started shouting at each other.
Because it was midnight, I fell asleep on the way. In the travel diary at that time, there was something very innocent things written.
But when I think about it now, if I followed these guys to "toilet", I think I'm definitely being raped or something and injured … I can't laugh when I think about it……whenever I think of it, I got pale.
At that time, I was so easygoing that I seemed to have fallen asleep on the bus despite the argument…..
It was about 6 o'clock when I got up in the morning. The guys were gone in the morning.
When I woke up, I was the only passenger on the bus.
The bus driver said "Okay, let's go." and drove the bus to Skopje, then I arrived safely.
Thank you very much, bus driver. He is the god who protected me.
I bought this sweets in Albania at that time and ate it on this morning.
This is a picture I took at 6 AM when I woke up after this terrible incident….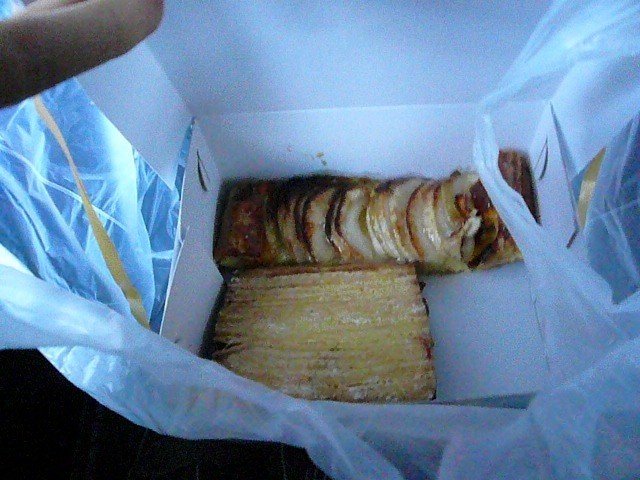 Next is Romania, which I wanted to write for long but have passed!!