This time I will write about Mostar in Bosnia. It was about 10 years ago (2007).
This is my travel journal after homestaying in Russia and then went backpacking around almost all of Eastern Europe. Then I was a student.
I spent the night at Yasuna's house in Sarajevo, Bosnia and Herzegovina, and when I woke up and headed for Mostar.
For Sarajevo articles, see ↓ for more details on Yasuna here. That was really tough day…..
Backpacker Travels (2007) Bosnia-Herzegovina: Sarajevo
At the time, then only buses ran between Sarajevo and Mostar, so I took the bus to Mostar.
Yasuna then asked me and recommended,
"Have you decided on a hotel in Mostar? A friend of mine is renting a her rooms in Mostar, and you can stay there!".
Yasuna's business spirit is strong…I thought. Anyway, I decided to accept Yasuna's offer.
By the way, I thought it would be safer (from a credit standpoint) to ask for a accomocation arrangement through a network of familiar local people than to find a hotel by myself after arriving there.
Before getting on the bus, Yasuna bought me a Bosnian magazine and said,
"Read this!" and just before the bus left,
"I was very fun to meet with you! Ah, pay for the magazine before you leave!!"
I thought Yasuna has strong business spirit with money until the end…..
Before leaving Yasuna wrote an e-mail address on paper and gave it to me, but I haven't sent an e-mail since then.
I hope she is doing fine now.
*This is a photo of a cake shop in Bosnia.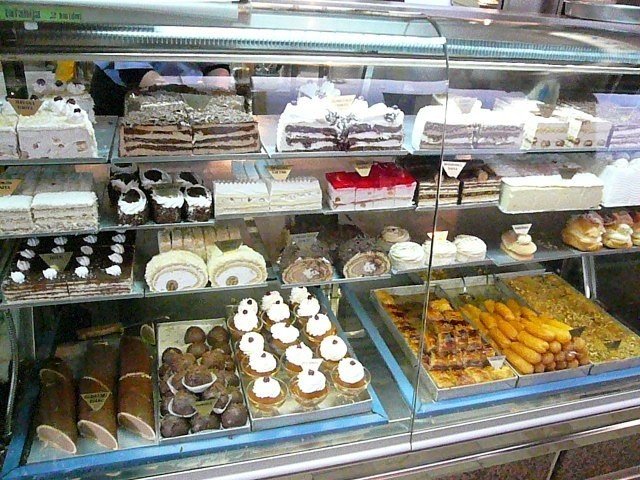 Arrived at Mostar
Mostar is a World Heritage site with beautiful scenery, especially famous for the bridge in the picture.
↓ This is a picture of the bridge.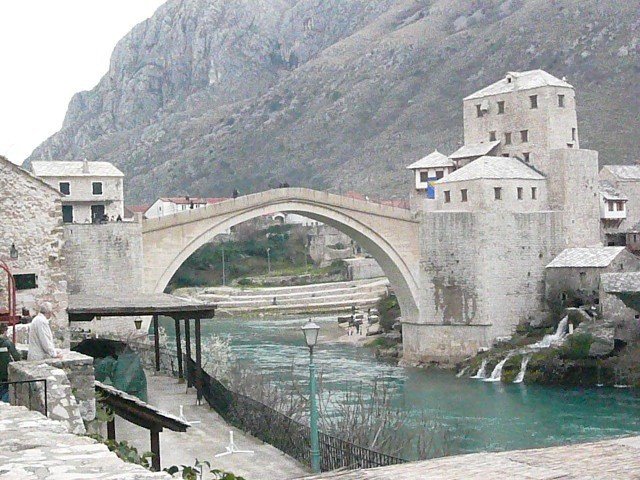 When I arrived in Mostar, Mother and Daughter who Yasuna introduced were waiting for me at the bus stop.
I thought I was lucky to meet them safely. If I had a bad luck, I would not have met you.
By the way, back in 2007, it wasn't as popular for students to use their mobile phones overseas as it is now as Japanese.
And the Wi-fi system was completely different in each country, so when I visited several Eastern European countries, I basically didn't bring my own mobile phones.
I was calling from a local public phone.
I also didn't have a Google Map at the time, so I walked around with a paper map (What I got at the local tourist information office, or just torn the page of the map of the guidebook.) in hand, and find the place checking "street name" especially.
Also, if a young Japanese girl like me, who was a student, was walking around with a map oall the time, there might be a risk of being followed by a bad person, so I just opened the map from time to time in an inconspicuous place to check it.
I took pictures too, but I am afraid if I took so many times and I didn't want to be targeted by a strange person, so I only took pictures only a few times with a cheaper compact digital camera.
Walk in Mostar
That Mother and Daughter rented the first floor of the apartment they owned.
Both mother and daughter were kind, and the interior decoration itself was great.
But the only thing that bothered me was that the window faced out and was too big (And there's no shading curtain.) and the wall was low on the first floor so I could see the inside from the outside through the window …!!
After that daughter explained the room,
"Tomorrow's bus to Montenegro is 10 o'clock in the morning? Noted and then I'll pick you up again at 10 o'clock! Enjoy your sightseeing!"
said the mother and daughter, and went out.
I immediately took my baggage down and went out.
Then, the moment I went out, an old man with a cane shouting in local language chased me! I was surprised and ran away.
Maybe he just wanted to talk to me because Japanese people are rare, but to be honest, I'm scared of being chased by shouting …!
I walked to the famous bridge in Mostar.
The area around the bridge was like a tourist spot, many people were walking and there was a souvenir shop.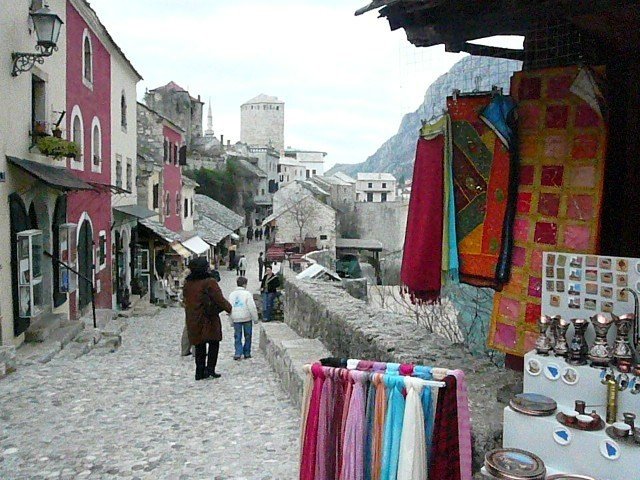 And this is a little stone monument of "Don't Forget" against the past wars. This was put everywhere.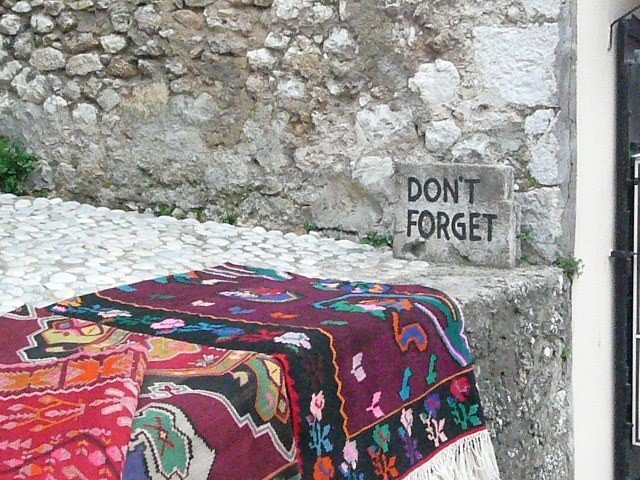 When I visited almost every country in Eastern Europe, in every country I bought CDs of the most famous singers there.
So I went to a CD store in Mostar to buy a CD in Bosnia.
When I said "I want a CD of the most famous singer in this country" in Russian, a blond Bosnian woman helped me find it. She was a very kind and beautiful woman.
Night has come and I returned to the room.
Then I noticed that when I turned on the light at night, it could be seen the inside of the room from the outside because there was no light shielding curtain!!
And the room was not fully partitioned and even it could be seen that the shower in the bathroom.
What's more, the windows were so big and the walls were so low that I was very afraid then if a bad person fount out that "There must be a young Asian tourist girl" and went in and robbed … I was really scared.
So I took a shower right away shortly, turned off the lights, and went to bed not to let anyone know that there was someone …!!
Since I started traveling in Eastern Europe, I've seen many dangerous situations and heard dangerous stories from other travelers, so I've been careful just in case….
I knew that it was relatively dangerous for a woman to travel alone, so I decided not to act something completely thoughtless so as not to make my parents sad by some accident.
That night,I heard firecrackers? gunshot? and the screams of the young people just outside close to my room, and I was so scared that I couldn't sleep at first … if they broke into my house as the worst case.
Going to Kotor, Montenegro
In the morning, I received a phone call from the Mother and Daughter in that room saying, "We'll pick you up now.".
Them picked me up and drive me up to the bus stop for Montenegro.
And I thanked them and got on the bus.
I was excited about many things in Bosnia, but somehow I was able to finish my trip in Bosnia safely!!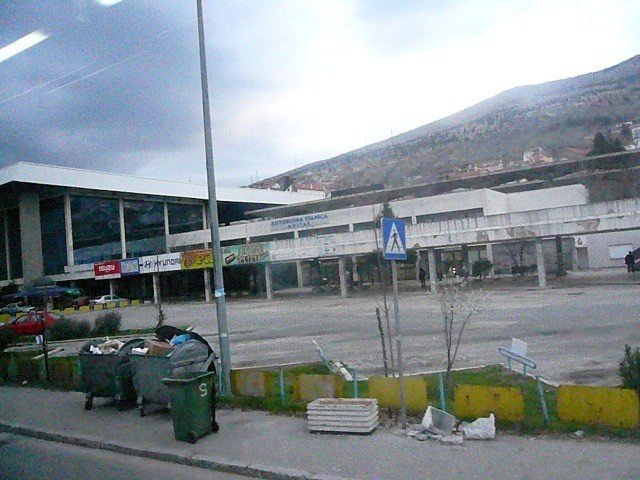 Next is Montenegro (Kotor and Podgorica)!