It was about 10 years ago (2007). When I was a student, I went backpacking all over Eastern European countries by myself.
From Croatia, one of the most beautiful resorts in Eastern Europe, I took a bus to Sarajevo in Herzegovina, Bosnia.
The previous article is here ↓
My Backpacker Travel: Croatia Zagreb&Dobrovnik (2007)
The moment I crossed the border from Croatia to Bosnia, I thought, "Oh, my God.".
Because the scenery and the atmosphere changed completely.
It was cold, heavy and sad, the color of the sky was dark.
The moment I entered Bosnia, the scenery around me changed completely.
There are many graves of burial everywhere. When I look to the right or the left, you can see the burial grave.
In addition, a white stick is a grave marker. The number is also enormous.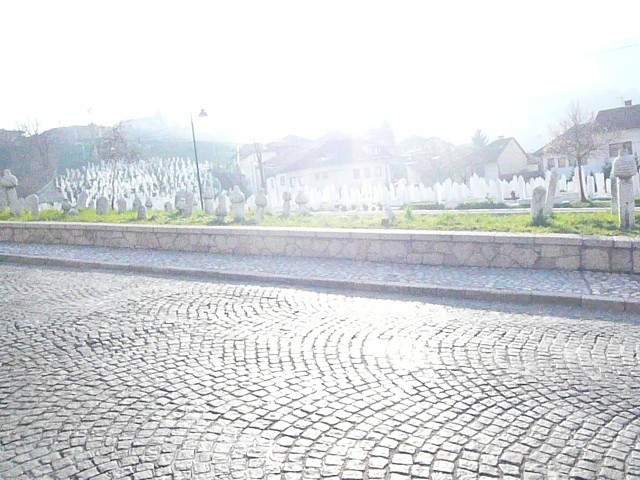 And there were countless bullet marks in the building.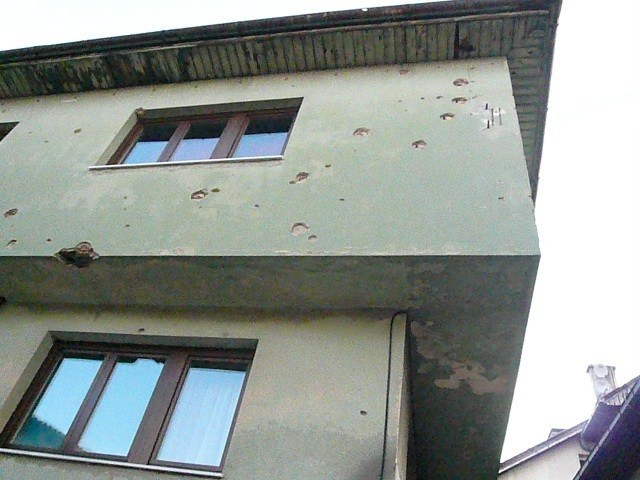 As a student at that time, I did not study the history of this country in great detail.
However, as I will mention later in my article on Serbia, I have had many opportunities to think about their history and the painful wounds that the people of this country suffered through the conversation with the local people.
You can't choose when or where you're born.
But that's why I thought I want to appreciate myself who was born in Japan ….
Accommodation about the countries which has no hotels in Eastern Europe
By the way, I'm a very cautious person, so before I went, I looked into all the countries in detail.
(But the information I got in Japan was really limited.)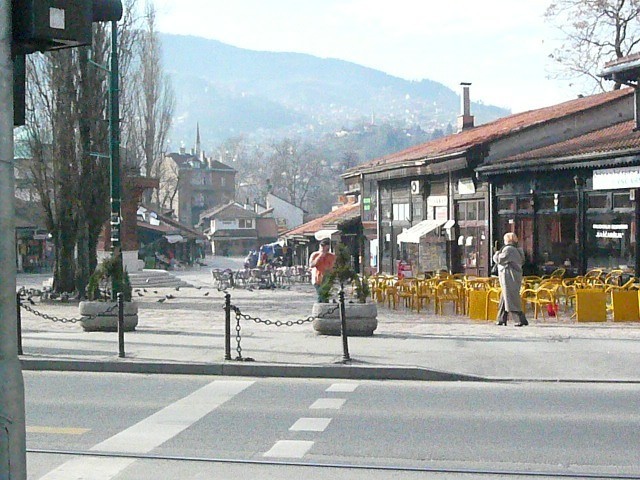 And at the time, without English and Russian (local language) websites, I relied on 2 channel's East European backpacker board for detailed information by Japanese backpacker (it is one of the most famous Japanese internet board).
There were only a few people, it means it is very rare to travel around eastern european countries as Japanese, and 90% of them looked like very unique male packers.
And I found that there often appears the name of "Yasuna".
They said as below;
First of all, there are basically few decent hotels in Bosnia.
Backpackers cross the border into Sarajevo by bus, it is the only local way of transportation.
Then, at the bus stop, there is a person standing with a card that says "You can stay at my house.".
And Yasuna is old woman who is the most famous among them.
And also they say that Yasuna will put a Japanese male backpacker up and attract them sexually, so be careful.
Several people wrote as such, Yasuna likes Japanese men very much.
When I read it on 2 channel, I thought, "IT'S KIND OF DANGEROUS." so I e-mailed a B&B run by a Bosnian couple, and made a reservation there in advance.
And when the bus from Dubrovnik arrived in Sarajevo, there was Yasuna (a person who seems to be) for sure!
I met Yasuna!
This is a picture of Yasuna. Sometimes she calls herself Ivana too.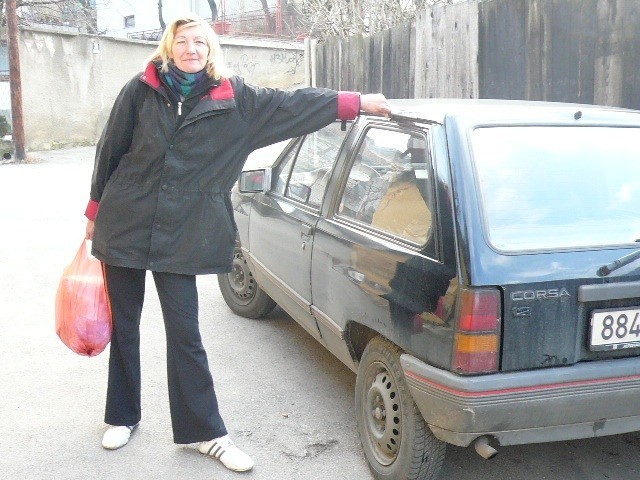 As soon as she recognized I was Japanese, Yasuna was coming to me, saying "Stay my home! Stay my home!".
By the way, it's not so much that the charge for the accommodation,since there seems to be a price competition among people, and the price they charged at that time was about 14 euros (Around 1500 yen) in average.
And the local people who manage these kinds of home-stay hotels always bring "guest book notebook" and negotiate with showing that book.
In that guest book, there were the writings by the people who have stayed there, and we backpacker checked these comment to see credibility of them.
If these comments say "This owner can be trusted, it's ok", and by these comments, backpackers will judge whether it is safe or not.
However, in the case of English messages, there is a risk that the owner may delete/cut what is not good for them, so we backpacker should check past travelers' messages written in my language (in this case, I am Japanese, so I checked Japanese messages).
Yasuna said, "Here are some Japanese messages." and showed me several messages from Japanese guests, and it looked all right.
Yasuna said over and over again, "I will guide you around the city, know the city, have delicious food, stay my home!".
*By the way, in the end I decided to stay at Yasuna's house for nights.
Then, when I left, Yasuna told me fiercely,
"Please write in Japanese on this guestbook 'This house was the best for Japanese people! This house was safe!'"
so I wrote a message as such. It was March 2007.
I also added a picture of Jack Frost (Persona games) with saying "Yasuna is safe!" in Japanese.
If anyone went to Sarajevo after March 2007 and negotiated an accommodation with Yasuna, and found my picture of Jack Frost and my message in Japanese, please let me know!!
By the way, I was interested in the home of Yasuna at that time, but I said "I'll think about it." because I had already made a reservation at the other B&B mentioned earlier.
Then Yasuna gave me her phone number and said, "Call me anytime, I will wait for you.".
Somehow, I felt that I could have an exciting experience than spending time in a B&B … and I was getting excited….
Decent B&B Wife's Scary Face
I was planning to stay at a B&B, but in the end I decided to stay at Yasuna … so I decided to tell that to the owner of B&B.
Then,of course, I was going to pay the cancellation fee, but the moment I told her that I was going to cancel, her smile turned into a very very scary face and screaming as such,
"Give me all the money you have to pay for cancellations!!"
In addition, she said, "If you don't give me all your money, I won't return your passport!" and was taken away my passport which I had accidentally given her.
I said "If I give them all, I will have no money to move to Mostar tomorrow." in a half-cry, but she didn't care about it at all, and she checked my coin purse and urged me to "There are coins in here, and give me all of them! Come on! Good girl!", and I ended up giving her almost all my coins too.
The reason why I wrote this is because the wife at that time was really scary.
I thought "THIS IS THE FACE OF A SHURA WHO'S BEEN SURVIVING IN A WAR COUNTRY WITH ALL THE BULLETS AND DOBURIES …"
To be honest, I've never seen such scary wife in Japan.
But I experienced lots in Russia and had already moved my cards and valuables from my another purse, so the amount of money taken was not that important.
I just felt how scary it is.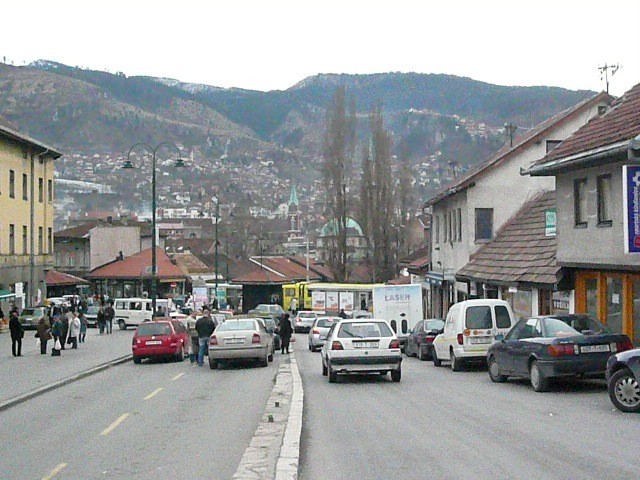 Then, I left this inn, called Yasuna and met Yasuna.
I didn't have a cell phone, so I called Yasuna from a pay phone near the station in Sarajevo station and she picked me up.
I felt pity and angry at the B&B's wife, so I told Yasuna what happened to me then, and Yasuna said, "That's too bad. Which B&B? I'll tell my friend of the police!" and she made it.
Spend the night with Yasuna
Yasuna was like an typical house in Bosnia.
By the way, "Delicious food" what Yasuna said was Bosnia's bread!
I was very interested in the local food , so I was happy to eat it.
The bread was greasy and tasteless, but it was the best for me at that time since I can taste local bread.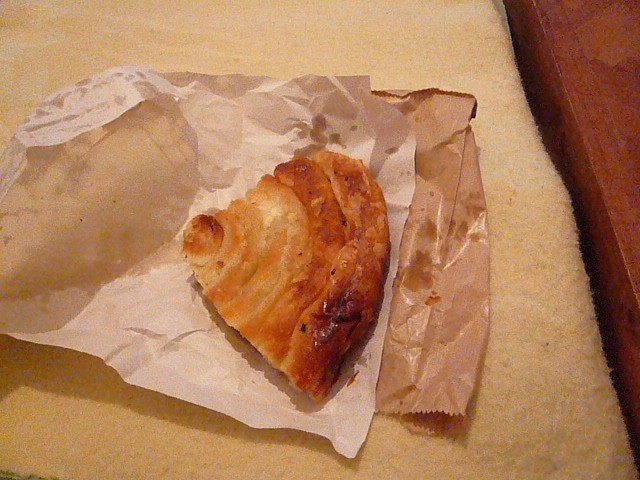 I slept in Yasuna's room at night. Yasuna showed and explained a Bosnian TV program to me.
Furthermore, before going to bed, Yasuna brought out something that was treasured and stored in the back and said "Hey, they're cool, aren't they?".
By the way, there was a copy of the passport of the Japanese men who might have stayed there in the past, and also a picture of Yasuna and another Japanese man.
At this time, I remembered the 2 channel post I wrote earlier …!!
(In fact, on 2-channel, there were a lot of posts like when they were sleeping, Yasuna would come in and take off their clothes and then they screamed …as such, and they said "Watch out for Yasuna, she really likes to sleep with especially Japanese guys" over and over again.)
By the way, Yasuna might not be interested in women at all, so I went to bed without having something and had a good morning.
*By the way, I didn't talk about the scenery of Sarajevo at all, so let me touch it.
↓ is a sign of a karate school I found in the area.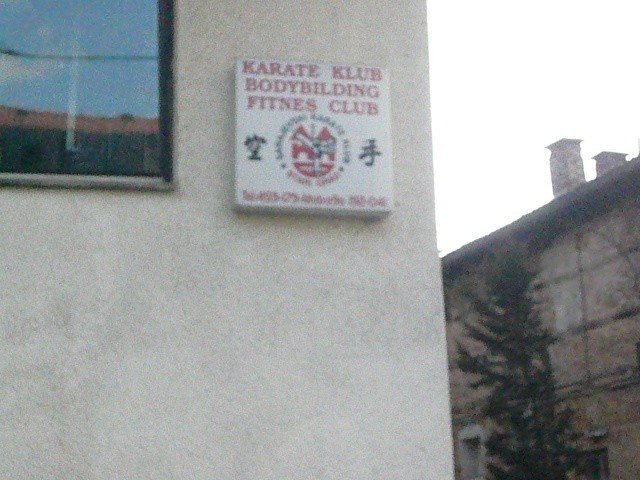 And this is a photographer studio in Sarajebo!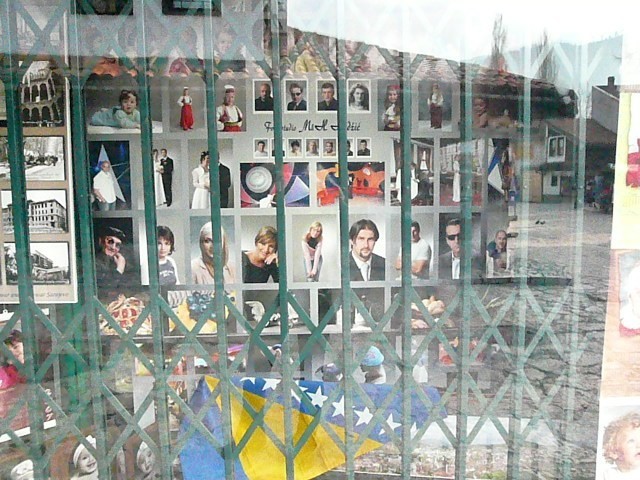 And after staying nights, I headed for the Bosnian city of Mostar, which has a World Heritage bridge!