This article is about Bulgaria! I said goodbye with Laura in Romania and took the night train to Sofia, Bulgaria.
What I experienced in Romania is ↓
Backpacker Travels (2007) Romania: Bucharest/Brasov/Sinaia
When I came this far, I got pretty bold.
I started my travel from Russia and I've traveled over 10 countries in Eastern Europe by train and bus.
When I think about that now, then I was only 20 years old in 2007 and there wasn't enough information on the Internet, so I really think I was really tough to do that ….
By the way, I made the itinerary for this trip including the time of the bus before I went.
But there was some countries in Eastern Europe that I wanted to visit but couldn't because it was difficult to put in an itinerary.
One of that was Belarus. The only Eastern European country other than Russia, Belarus, required a visa in advance (As of 2007).
If we need to apply for a visa in advance, we have to go to the embassy in Japan and apply for a visa while we are in Japan, and then we should indicate the date of our stay.
I had already applied for a visa in Japan with regard to Russia and Uzbekistan, the last country I visited, but with regard to Belarus, I felt that it would be quite difficult to travel on such a tight schedule and so I could not put in this trip….
I wanted to go to Minsk, the capital of that country…..so this time's thumbnail is Belarus cosplay on Hetalia!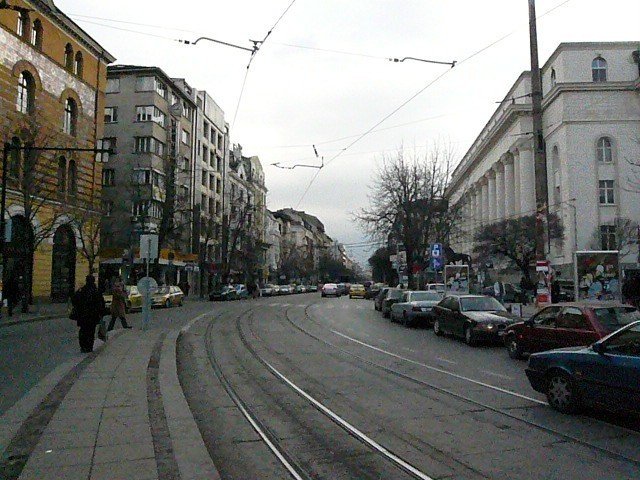 A streetcar with rip-offs
So, even though I got bold, many things still happened…..
In Bulgaria in particular, there are relatively more backpackers and tourists than else in Eastern Europe (It is only within Eastern Europe,), and the streetcars that run on Main Street from Sofia railway station, there are rip-offs targeting backpackers and tourists…..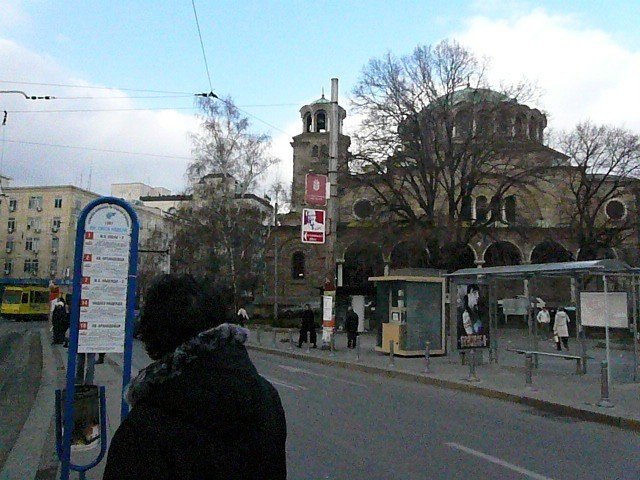 I exchanged the information about rip-offs at the hostel I stayed and one person told me that he had been fined for riding with a big backpack on his back, and then the rip-off (train crew) was coming and saying "You should have bought a ticket for the backpack too, but you didn't! You should pay fine!".
Sadly, I was ripped off on that streetcar too…..
In my case, the train crew told me, "The hole in the ticket is in the opposite direction! You should pay fine!" and forced me to pay fine.
But there, for the ticket, it is just a thin sheet of dirty paper, and ticket punch is half-rusty and making a shabby hole….
So, I thought it was obvious that I was being cheated, and I said to him,
"I will not pay because I am paying the necessary fee!"
They still complained, so I got off at a nearby station.
Then, to my surprise, the train crew and some guys who seemed to be his companions got off the same station and chased and surrounded me.
"Hey we are gonna call the police!!"
They started saying that.
By the way, the reason why I didn't pay fine was because I thought that if I was scared to pay here, these people would think that "Foreign Tourists are very easy to cheat" and they would definitely make cheat again to target foreign tourists at the next time too.
But when I was called to the police here, I was sure that I would lose more than twice money by them.
You cannot imagine that it is Japan, but the salaries of police officers and national public servants are not high in these countries including Russia.
That's why policemen were corrupt, and then targeting tourists, it was sadly normal to ask for money using the police's name.
As I had already heard the story from other travelers, I knew that if I were to be called police here, I would be in further mess/trouble by the police, and would be asked to pay much more fine, including the amount that would in the police's pocket-money, so I paid the fine before they call police.
So even the public transportation people were corrupt, and sadly the police officers were corrupt.
My Russian is getting better
My Russian was getting better during my travel.
At the post office, I asked "Two stamps, please." in Russian on behalf of my friend's backpacker, and I helped out when the conflict between a local taxi driver and a foreign tourist in Russian.
What surprised me was that, the woman in the post office seemed to have a sour face when speaking in English, but once I spoke to her in Russin, her face turned to be a very kind smile.
And also when foreign tourists going to a sightseeing spot "Lila Monastery" and having a dispute with the driver, it was very impressive that the scary face of the driver suddenly changed to a relieved face as soon as I stepped in saying "I understand Russian.".
And also I could already go to a local language only restaurant with other foreign backpackers, and I could read the Russian menu and order for everyone …!!
Oh, by the way, this is a recommended restaurant in Bulgaria!!!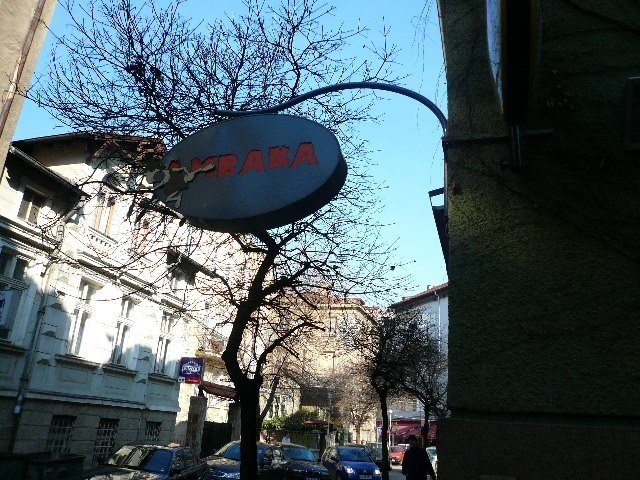 And this dish, cold white soup with yogurt, is a Bulgarian traditional dish!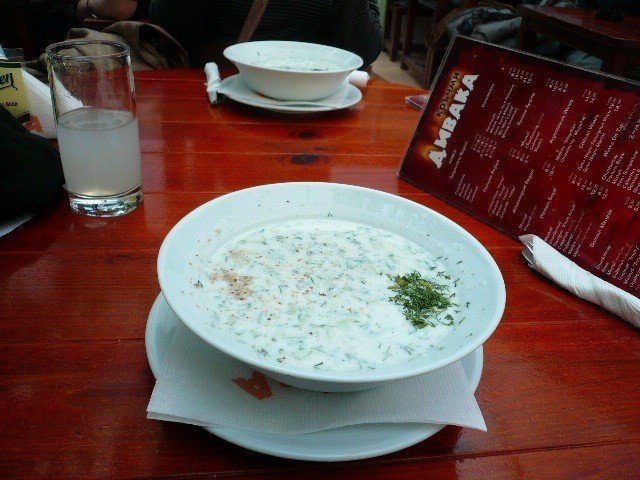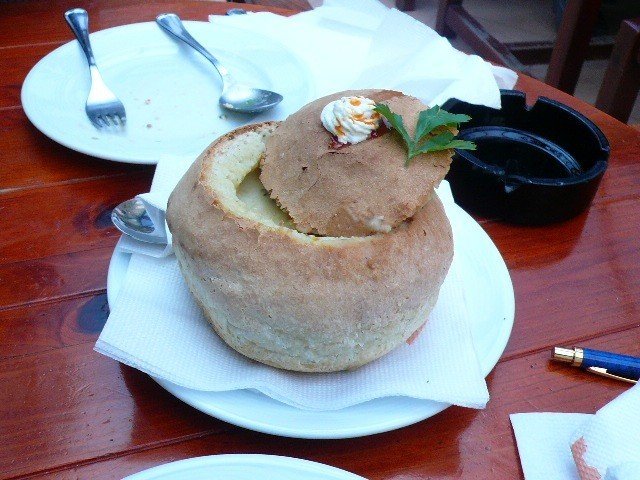 By the way, as I wrote at the beginning of my travel journal, I didn't study in Russian at all university or even when I was in Japan.
I had a homestay for nearly a month and learned Russian and then already I could make it use!
Bulgaria is going to be a little longer, so I will divide it into two articles!
Next time, I will talk about our going to the local Bunny Girl bar, and also go to Velico Tarnovo, the hometown of Koto-Oushu (Sumo Wrestler based in Japan).