Hello, this is a story from Macedonia (Skopje, Ohrid).
Next is Albania.
In the first place, how many people have been to this area and thought "Ah, I want to go to Macedonia ~ ~!" …!?
This is Macedonia, a travel diary which started from Russia and traveled in Eastern Europe.
And last post was Serbia!!
Backpacker Travels (2007) Serbia: Beograd
By the way, the name has been changed to North Macedonia, but it was Macedonia at that time.
Messy Bus Terminal in Sofia
I went to Skopje, the capital of Macedonia, from the bus stop in Sofia, Bulgaria.
Because Sophia is like a hub to all the neighboring countries, and because the only way to travel between countries in this area is by bus, the bus terminal in Sophia becomes a very important transportation hub then.
"Where is the bus to Skopje?" I asked in Russian at the Sophia bus terminal tourist information center.
Then the woman there said, "I don't know, ask that person" and pointed other places.
But there was a counter of another bus company that obviously had nothing to do with it.
I thought it was strange because it was a tourist information center … but that person cut off the conversation forcefully, And I found she played solitaire on the computer……
In Japan, there would be people who would make angry with saying "You should know the SPIRIT FOR THE CUSTOMER!! etc…..", but for me who has been in Eastern Europe for almost two months then, I feel like "Okey it happens….."….
*When I first arrived in Russia, I just thought, "WHAT IS THIS!?" and I was shocked at the looseness in various ways, the inadequacy of time for all transportation.
But two months later, I totally get used to that and thought:
"People are not machines, we do not make everything too accurate such as Japan with no mistakes! It's very tough and…..isn't it easier and more fun to live if you can be more irresponsible as the people of Eastern Europe?"
Well…..actually, I still think so.
Arrived at Skopje
Skopje is the capital of Macedonia.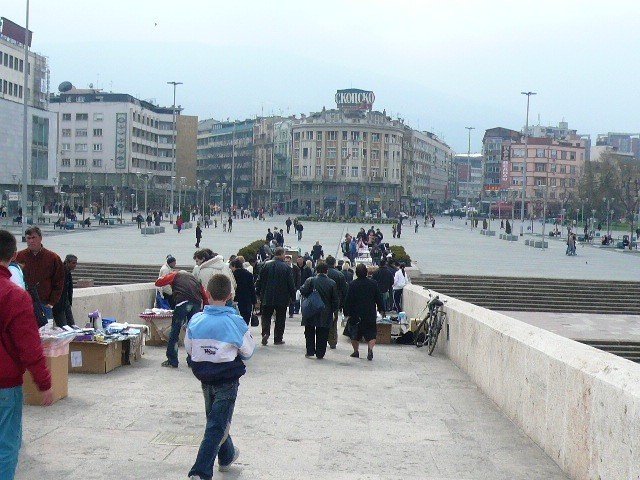 As you can see from the picture, it is surprisingly normal and quiet.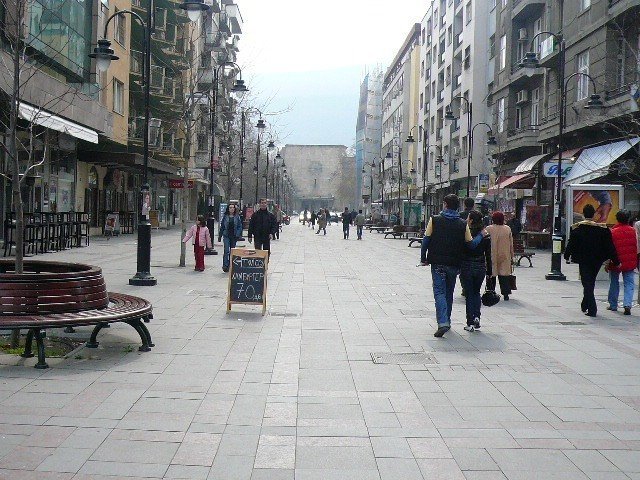 So far, not only Asians, but even tourists are rare? I was spoken to by some locals on the street and asked for pictures so often.
Furthermore, the aunts on their way home from shopping asked me that, "Let's have a cup of tea together at the cafe!".
But I declined because I don't have time for tea.
In big cities, some robbers or bad men try to cheat tourists to do something bad by mixing sleeping pills into their coffee as such, but at this point, here in Macedonia, there are almost no Asian tourist, so I easily understood they are not bad people but just purely had interest to me.
Btw there is an hour difference between Macedonia and Bulgaria (trivia).
A Philosopher Man in Ohrid
Here we are at Ohrid. Ohrid is a town near the Lake Ohrid.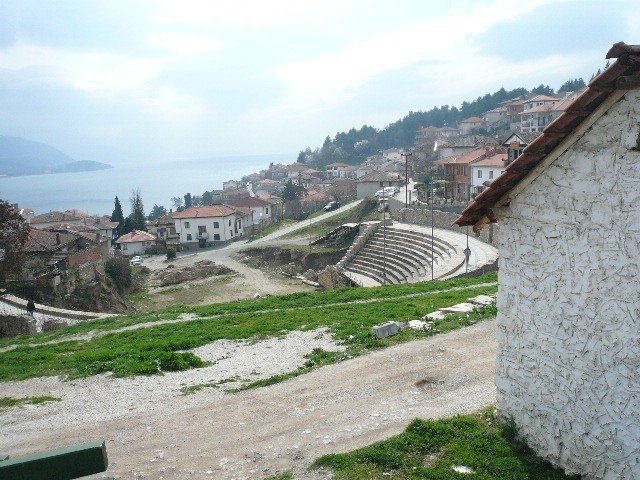 As soon as we arrived at Ohrid by bus, Antonio, who was renting out his house was approaching to me and said,
"You can stay my house!!Here is the guestbook!!"
He looked relieved after seeing the guest book, so I decided to stay here.
You can read more about the home and guest book system as backpacker here the article in Bosnia.
Backpacker Travels (2007) Bosnia-Herzegovina: Sarajevo
Antonio was also a cameraman, and he showed me, saying, "My pictures gets postcards and sold in the souvenir shop!".
When I was walking down the street, there was a man who wanted to show me around.
Like the Skopje I wrote, he looked like an old man with a lot of interest to foreign tourists, so I decided to ask him to show me around.
That man called himself a painter and philosopher, and he explained a lot of things about the city. He excitedly explained and showed me around the whole place. When I saw his art gallery, he seemed satisfied and said, "That's all thanks for the day.".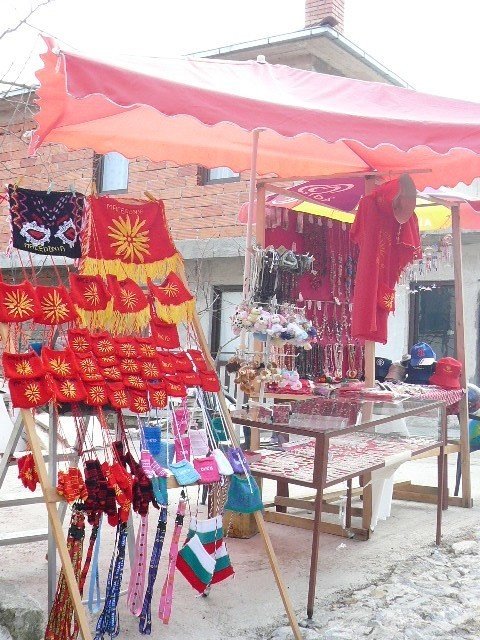 When I returned to the inn, Antonio asked me, "Why don't we go to Albania?".
Apparently an acquaintance of Antonio is running a hotel in Tirana, the capital of Albania.
Antonio told me that he would tell how to get there and to write the directions on paper for me.
To be honest, it was a mysterious country that was not very safe.
It's said to be one of the poorest country in Europe, and going there without a map is pretty dangerous …! I thought.
I go to Albania thinking, "I'm gonna die."
I was thinking about going to Albania.
I was seriously thinking about that for hours in the evening.
To be honest, I lost hope in my life at that time, and every day was not fun at all.
At that time, I was a university student and was about to get a job, but I didn't like Japanese job hunting system, which is just following what others are doing and rated the companies just how big and how high salary and compete just by the name of the company which is how big and how high salary.
I don't know why my classmates in Keio University want to enter a big company without any question, I don't want to do that.
I wanted to work overseas or start a business overseas.
But of course my parents were against it. And here was no one around me understanding my thought.
I wondered why people around me could do it without any question, and why, I couldn't do it … but then I felt hopeless.
In Albania, Antonio said he would draw a map of directions and contact me at my hotel in Tirana, Albania.
Without maps, without accommodations, just a hand-drawn map would take me to Albania… At that point, I thought, "I don't know if I'm gonna die.".
I thought, "But I wanted to die, so I am even happy if I can die here!" and decided to go.
It sounds like a joke and fool, but I was serious. I wanted to die.
My mother was the disease of Depression and I was a bit exhausted on it too….
But eventually, I arrived at the hotel only with a handwritten map in Albania!
Maybe it's because of my great luck (I have to say big thanks to my God enough) and also because I unconsciously got very cafeful through my experiences in Russia and other East European countries.
In fact, on the bus from Albania, there was a case where if I took a wrong step, I would have been raped and attacked with no life … (I really appreciate the bus driver who took care of me then.).
Next is Albania (Tirana)!