This time I will write about my 2007 solo trip from Russia to Eastern Europe, my previous post was about Sarajevo and Mostar!

Backpacker Travels (2007) Bosnia-Herzegovina: Mostar
I took a bus from Mostar to Kotor in Montenegro.
The only way to get around here is by local bus, so I went there by bus.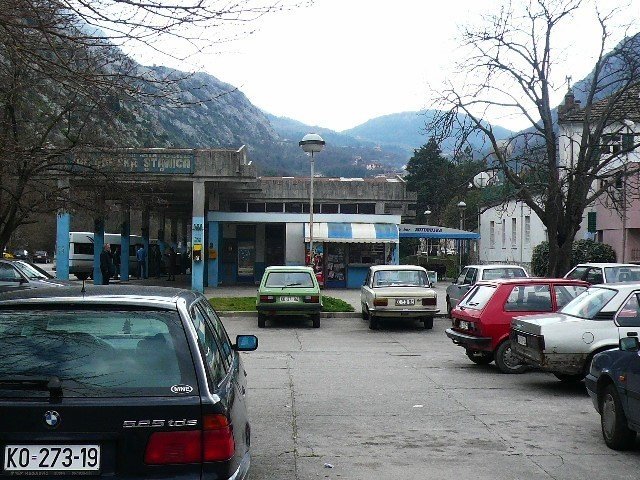 Japanese Backpacker Akiko-chan
Then, I found one Japanese backpacker girl came in the bus on the way.
During my travel there were mostly men's solo backpacker around this area and they are very very unique withour exception. So Akiko-chan must be more than that! I became very interested.
I really like unigue people!!!
And in the end I traveled with her in Montenegro, and we recognized that we were the same age, and she is going to Waseda University.
When I told that I am an anime otaku and cosplayer, luckily she told me she is same with me she is otaku (but then not a cosplayer), so after going back to Japan we went to conveniton togather!
It was Reitaisai, biggest annual Touhou's convention and we cosplayed Kagura and Eirin together!
*By the way, we were very curious about that, but back in 2007, Montenegro was not a member of the EU. But the euro was used in Montenegro …!
"I will use it because it is convenient!!!" I guess.
There are many countries around pre-Yugoslavia that are not EU member countries, and the currency was their own currency, so I was surprised that only Montenegro used the euro for some reason. I mean, it was really funny.
No hotels, no buses
I arrived in Kotor, Montenegro.
As you can see from the pictures, it is different from Dubrovnik, it is like a beautiful natural sightseeing heritage without not get too much touristic, and it is really amazing.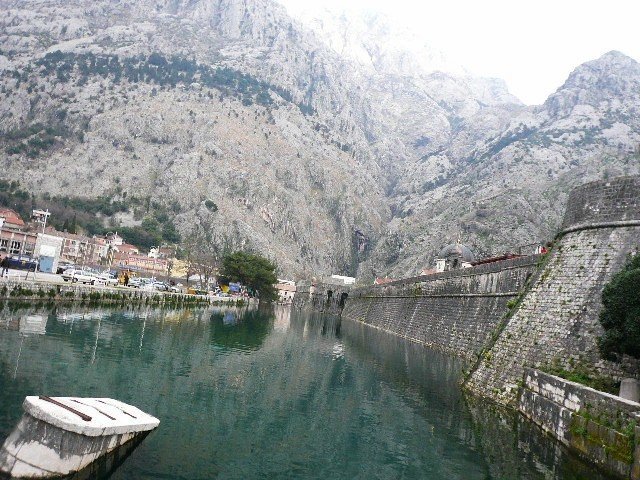 And I arrived at Kotor, but there was no hotel…
It was March at that time, and due to the off-season, the few hotels in the area were all closed…
And when I got off the bus, a mysterious old man followed us from behind saying "You can stay at my place."… I was scared and ignored him…
For the time being, I was thinking of taking the next bus to go to another city where the hotels exist, but the Kotor bus stop (it's just a stick with shabby timetable) said … all buses for the day would be finished around 4 PM….
That means we do not have bus to move to other city….and no train.
So we needed to stay somewhere in Kotor…..
I went to the tourist information center with Akiko-chan to look for an accomodation.
Then, the woman of the tourist information center said "The hotels are all closed at this time, so you can stay at his house behind you!"!
When I looked back, I found the old man following me on bus stop was there. He was muttering something like "Come to my house." quietly.
I was scared, but Akiko-chan said, "I'm with you, so let's stay together!" so I ended up staying at his house.
A very decent house to stay
When I went to his house, it turned out to be a normal decent house and even very good.
He showed us his granddaughter at home and let us use the kitchen freely, so Akiko-chan and I went to the supermarket to buy food and we made dinner together.
And when I was having dinner, his daughter shared us some bread at home.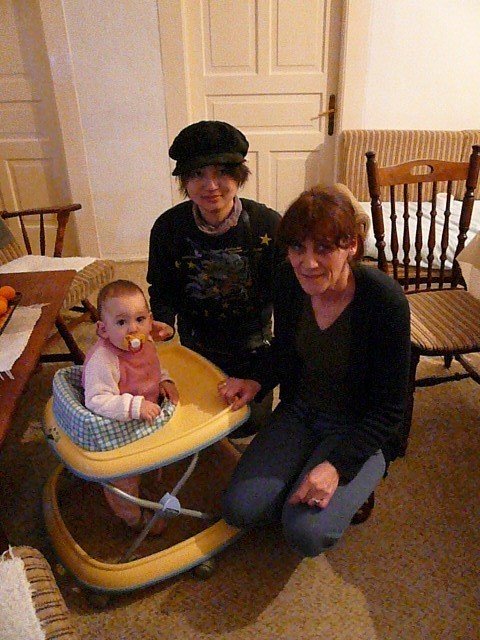 Btw my wearing T-shirts was bought in Alaska! It says "Last Frontier" on front!!
The view of Kotor is very beautiful.
Not only is it not well known, but the transportation is very inconvenient, but I would like you to go and see it if you come close to that place!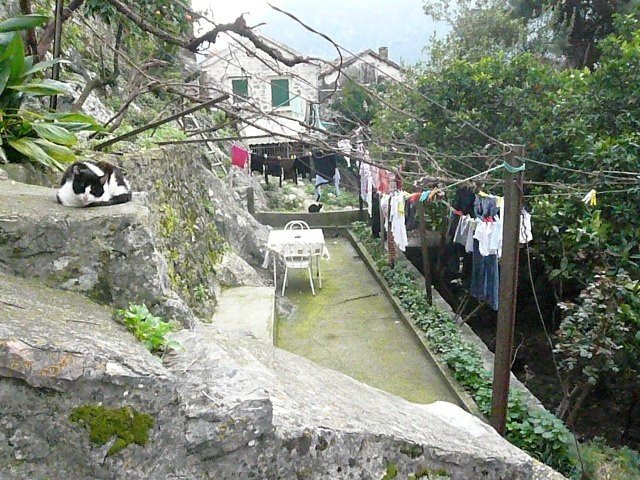 By the way, if you have half a day, you can look around the inside of the castle wall. The scenery is beautiful!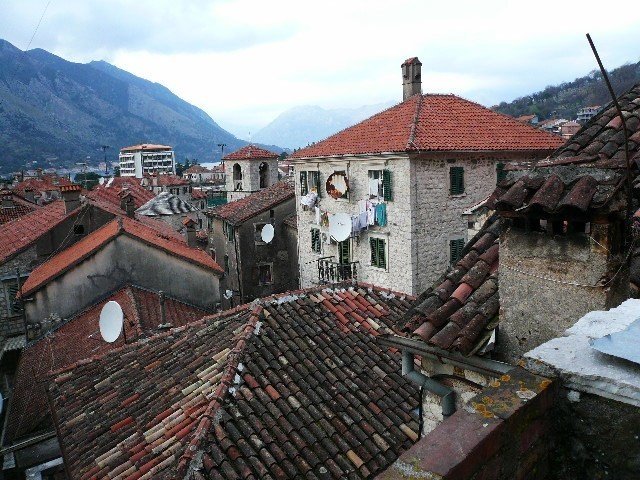 And Akiko-chan and I were talking about otaku stuffs at night …!
Death Note was popular at that time, so I roleplayed as if we were Kira or MisaMisa! XDDD
Podgorica, the capital nothing to see
The next day, Akiko-chan and I took a bus to Podgorica, the capital of Montenegro.
By the way, busstop in Kotor, it was written only in Russian (Cyrillic alphabet) in 2007….
Podgorica writes "Подгорица" in Russian.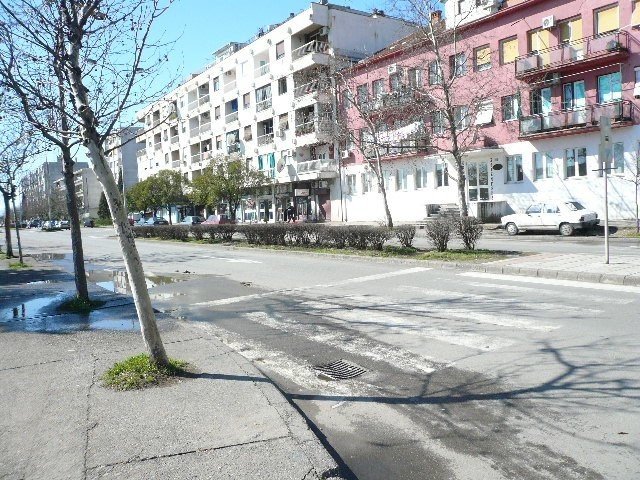 Podgorica is not well known, and actually there is nothing …! As you can see from the picture, it's near Podgorica Central Station, and there is a housing complex.
However, it was more convenient to go to the neighboring countries than Kotor, and there was a train station, so we went to Podgorica to move to the next country.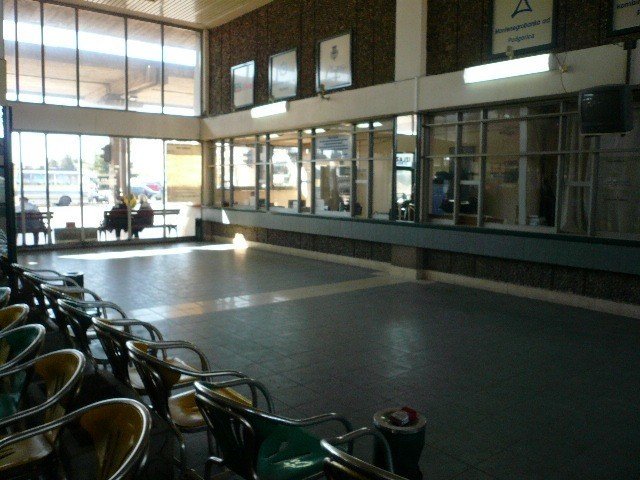 I told Akiko-chan about Yasuna I wrote in the previous article in Bosnia because she is going to Sarajevo(Bosnia) from here.
I said "Let's meet again somewhere!" to Akiko-chan and we went our way each other, and accidentaly we met again in Sofia, Bulgaria …!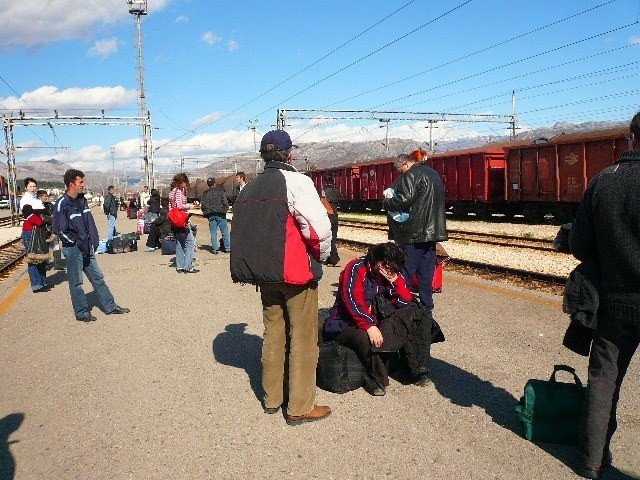 I went to Beograd in Serbia from Podgorica railway station.
I think it's a train leaving around 11 AM and arriving in Belgrade around 15 o'clock.
So next is Serbia!