Hello!
I started with a homestay in Russia and traveled around Eastern Europe and Yugoslavia in a backpack. I finally came to Turkey!!
It's been a long time, about two months counting from Russia to get here….
And last time was about Bulgaria;
Backpacker Travels (2007) Bulgaria: Sofia/Veliko Tarnovo
Also, the thumbnail is Baby US cosplay on Hetalia!!
But I was in a little hurry because I had to fly right from here to Tashkent in Uzbekistan.
At first, I didn't book any train or bus tickets, but only the plane ticket was fixed with a discount that could not change the schedule.
The ticket indicated that the flight from Istanbul to Uzbekistan had already been scheduled, and it was the day after the arrival my date in Istanbul on that day …!!
But in a way, it was amazing that I could travel around all of more than 10 Eastern European countries by bus and train and safely arrived in Istanbul without any problems…..!!!!
Love the Architecture of Mosques
I had only one day to see Istanbul and I was running around Istanbul all day.
By the way, I haven't written anything about it until now, but one of the reasons why I set up that backpacker trip to Eastern Europe was because "I wanted to see the mosque."!
At that time, I was doing the research in my universty of the development economy of Indonesia, and Indonesia was a Muslim country, so I had seen a lot of photo collections of mosques as my research at that time.
I was so fascinated by its beauty that I thought, "Okay! Let's go see!" and decided to take this trip.
So what I could never miss was Samarkand (Uzbekistan) with the Blue Mosque, so I thought "What else can I do to get there …!?" and made all these itineraries.
Studying in Russia was for a totally different reason as "Because I wanted to do something that no one else would do in Japan.".
Since I have an absolute sense of pitch, I am confident that I can learn languages!
There are a lot of mosques in Turkey and I was very happy.
The most famous is Yeni-Jamii, a magnificent mosque with pencil-shaped minarets surrounding it. There are many beautiful mosques other than Yeni-Jamii in Istanbul, and I was very satisfied looking around at them.
*By the way, the architectural style of the mosque is slightly different depending on the area.
Personally, I haven't been able to go and see but I would love to tell my most recommend mosques, that are the green "Hassan II mosque" in Morocco (It said it was the third largest mosque in the world at the time.) and the "Isfahan mosque" in Iran (This is very very beautiful mosque …!).
More than than, I am very satisfied just to see the blue mosque in Samarkand, the best mosque for me.
Also, there are beautiful mosques buried in the desert in Central Asia such as Kazakhstan.
… Mosque is great!!!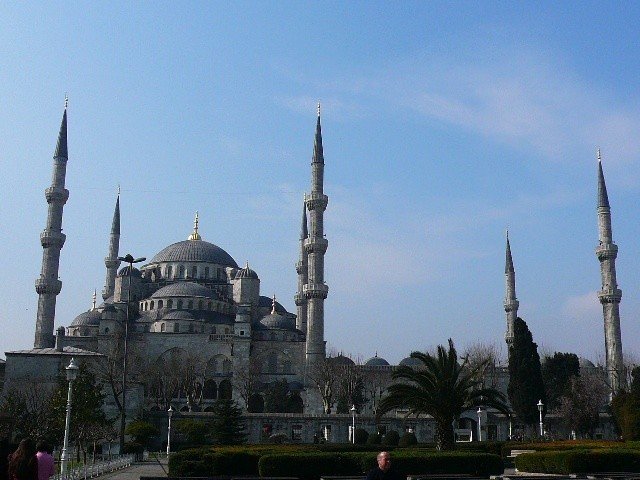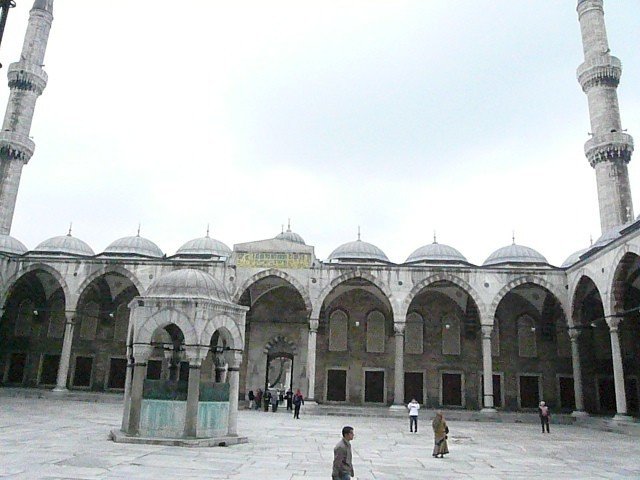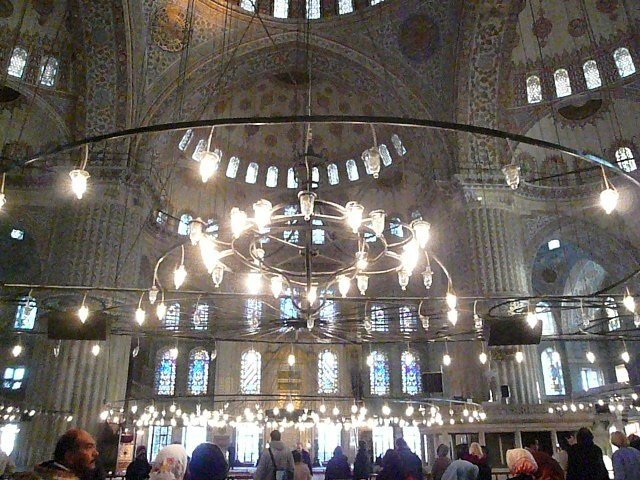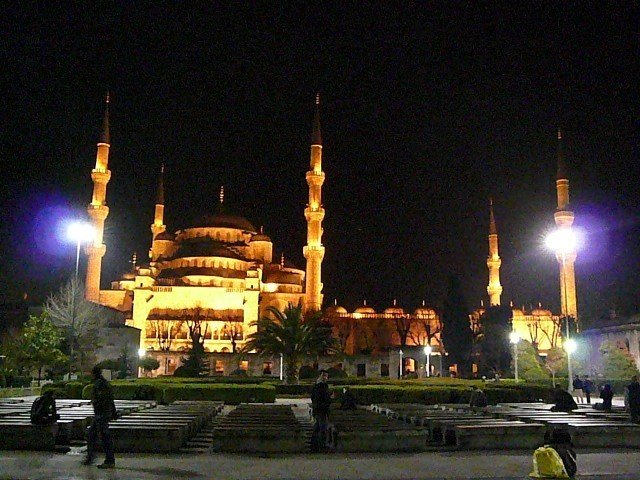 Mackerel Sandwich and the Basilica Cistern
To be honest, I really wanted to go to places like Cappadocia by bus if I had time, but I only had one day before flying to Tashkent, and I was walking around the city from morning till night looking at the main attractions.
I didn't do any sports at that time, but I had a lot of energy, so I was walking all day!! The photograph of Basilica Cistern, one of the famous tourist designations of Istanbul.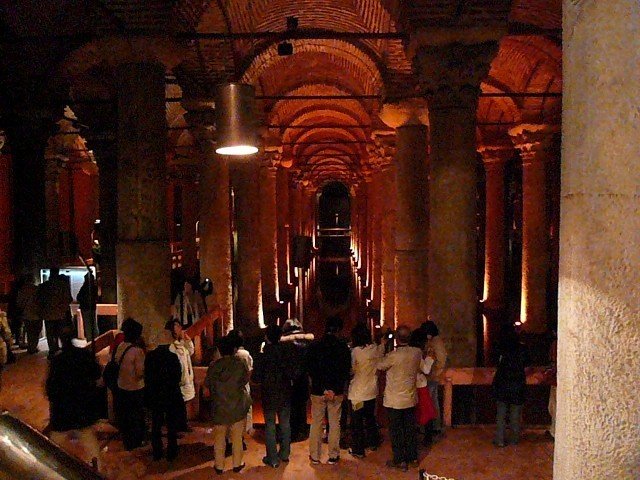 Also, I think there is a big bridge in Istanbul, and the mackerel sandwich which is sold a lot around is also famous!!
There are many Turks fishing mackerel in the bridge fishing pond, and they cook the mackerel while it's still fresh and make it into a sandwich, so it's truly tasty and amazing!!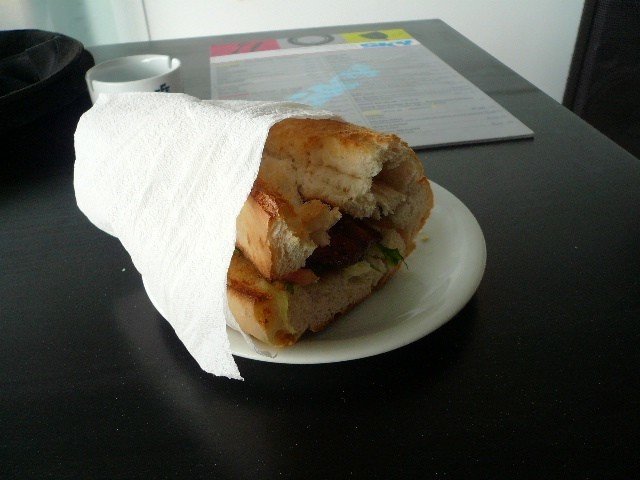 By the way, in Turkey, a Turk will often say to you, "Let's buy a carpet." or if you are women will say, "You are so cute ~ ~Let's have a cup of tea with me!".
In Istanbul, there were a lot of fashionable Japanese female tourists who were normally dressed up.
So when I saw such cute girls, I thought, "I wonder if Turks would want to pick up Japanese girls …".
By the way, then, I didn't have any makeup on and I was wearing shabby clothes.
Tragedy has happened
By the way, Turkey sounds very safe, but sadly I had the most dangerous experience here in Turkey since the beginning of this trip to Eastern Europe….
The incident happened when I left the hostel where I was staying.
The first floor of the hostel was completely dark, and there was an entrance on the second floor above the spiral staircase.
I was leaving Istanbul at about 7 PM to catch a night flight out to Tashkent, Uzbekistan.
Then someone knocked hard over the door, and I thought, "Is that someone coming back to the hostel?" I had to go out anyway, so I opened the door innocently.
Then a Turkish boy of about 18 years old came in and attacked me …!!
If he were a robber, he would have snatched the bag I was hanging from my shoulder and fled (It's a fake bag with nothing important in it), but the boy didn't even look at the bag and was pushing me down and trying to rip apart the whole body.
Once I screamed, he tried to escape, but when I stopped screaming, he attacked me again.
When I screamed for the second time, some men in hostels were upstairs came out and the boy finally ran away.
In fact, the door from the first floor to the basement was right opened too.
So, unfortunately, if I was pushed into the basement and attacked…..then I must be completely raped without help and everytime when I think about that, I was totally terrified.
And in the sense that if the boy had taken out the knife, I wouldn't have screamed, totally scared…..
By the way, that hostel is a famous Japanese hostel managed by Japanese women, and in 2007 it was a place that every Japanese backpacker who went to Turkey would know.
The name is "Tree of Life", I heard that this hostel is closed now.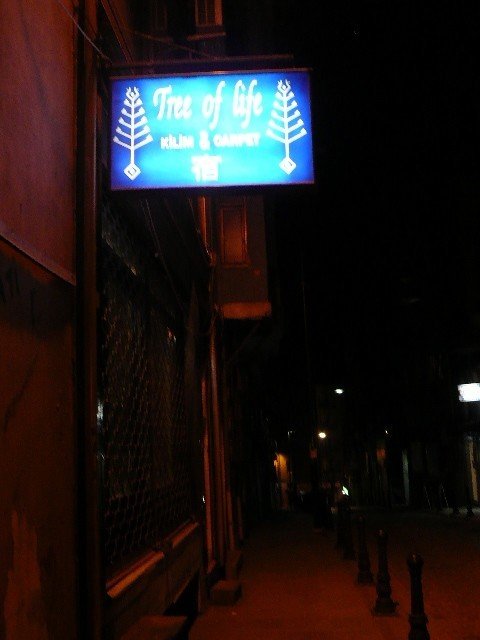 I had to catch a plane anyway, so I hurried to the airport.
I was so upset that I started talking to other Japanese women tourists who were on the tram to the airport, "I was attacked just now.".
Then they were scared too and worried about me…
While so many cute Japanese girls were walking around, why was he targeting me, who was wearing nothing but makeup and looking shabby? I thought so, and I was filled with sadness.
At the airport, the Uzbekistani standing in front while waiting for the ticket to be issued, when accidentally bumped into my backpack on the floor and hit that to him, he glared at me and cursed me….
Finally, at that moment, I was totally running out, and during the time until the plane arrived (The train to Tashkent was late at night, so I stayed up all night.), I sat in the chair at the airport and cried for a long time…..
Now, this trip that started from Russia is the next and last country! Uzbekistan!!
There are also many great episodes about studying in Russia as well, so I would be happy if I could write them separately!