Hello!! I will write about my memories of Taiwan this time.
I have been to Taiwan twice in total, the first time for a normal cosplay convention and the second time for a Hetalia only event!!!
By the way, I studied Chinese for 2 years at university, so I can speak simple words in Chinese too☆
Cosplay convention held at Taiwan University
I found the biggest cosplay convention in Taiwan!
The event was called Fancy Frontier and was held on the grounds of Taiwan's leading university, the University of Taiwan!
Straightly I went there and I was dressed up as a Hetalia on this day!!
I was cosplaying for South Italy on Hetalia, and I got friends with Taiwanese girls who were also cosplaying for Italian-chan on same Hetalia!
Taiwanese cosplayers, their name is Kai-chan and Cko-chan, both of them were wonderful☆
They wanted to get friends with Japanese people very much, and even after returning to Japan, we were talking on Skype and so on!!
Then, when I said "I want to go to Taiwan again.", then we made a plan to have a booth on Hetalia only event in Taiwan and they helped it with applying and selling goods for that event!
Going to the Hetalia Only event
The application form was very analog in 2009, so I asked Kai-chan and Cko-chan to do it for instead!!
The organizers of Taiwan's Hetalia Only were very nice and they told me I was coming all the way from Japan and provided me the most visible space as my booth! I truly appreciate on it.
After we went the Hetalia Only, we went out to eat together with about six people including Cko-chan, Kai-chan and other Taiwanese friends!
Foods in Taiwan are all delicious even if it is cheaper!
This is the dinner we had in Taiwan!!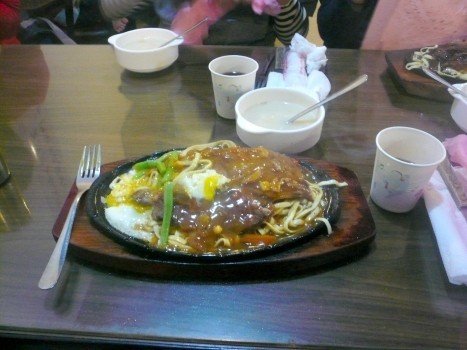 One of these friends said that she would start working at Mitsui & Co., Ltd. in Taiwan from next year, and Kai-chan and others said, "She is smart!".
After that, we went to see animates and maid cafes in Taiwan.
And we went to see the night market in Taiwan, famous touristic spot!
Then all of a sudden, a stranger woman, who is the mother carrying a child on her back,suddenly came and said, "This meat bun is delicious, so eat it. Are you Japanese? Welcome to Taiwan!".
I was surprised, at least I would never have received it if I am in Tokyo.
But Kai-chan and others said "It's delicious! Let's try!" and I ate it.
Then it was delicious!!
K-on Shooting and Going to Tanshui
When I went to Taiwan for the second time, I stayed at Cko-chan's house.
Her mother was also very kind to me.
Actually, I caught a cold at this time, so I really appreciate their kindness.
Cko-chan said to me "I like Kamiya Hiroshi, so I named myself as Cko of Hiro C." as her nickname.
By the way, Cko-chan was going to study in Nagoya University as a Scholarship!!
I think it's about time she finished studying, so I wonder how she is doing now.
By the way, this is a homemade sweets made in Taiwan by Cko-chan's mother!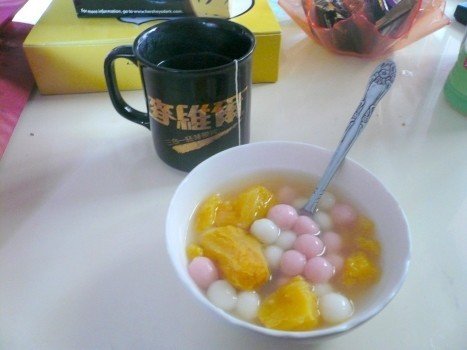 And this time, I really wanted to go to the town based on "Spirited Away" the movie by Hayao Miyazaki (Studio Ghibli), but it was a little far, so we went sightseeing in Tanshui!!
It was a very beautiful place.
I really wanted to go to Taichung and Tainan if I had time, so I hope to make it at the next time.
And we went to K-on photo shoot!!
At that time, there was a chat board called Plurk, and Taiwanese people were interacting there!
I even looked that since Kai-chan and Cko-chan kindly showed me!
The K-on photo shoot was held at the place they call Taiwan Dome.
If I remember correctly, Kai-chan did Mio, Cko-chan did Yui, and I did Ritsu!!
You can take pictures everywhere in Taiwan, even on the train!"
They said☆
It's a shame there aren't many photos at that time…..
Next I am happy if I can write about my Alaska Volunteer activity!