Hello! I decided to rewrite my travel journal, which I had written only halfway before.
When I was a backpacker, I was traveling alone as a girl to nearly 40 countries, mostly not major touristic countries for Japanese.
This time I would like to write about my memories in Kiev, Ukraine.
At the age of 20, I went to Ukraine from Russia and then traveled around the eastern Europe by myself, and then to go to Kiev, I took a train from Russia.
There was not much information on the internet at that time, so you can imagine it is a kind of tough work for me as a student.
And the thumbnail is my past cosplay of Ukraine-chan from Hetalia!!!
By the way, during my one month stay (I was doing homestay) in Russia before going to Ukraine, I was shocked (I will write this in another article.) and realized that I could not live in this former communist country with only English, so I studied Russian hard by myself.
At that time, I didn't study Russian at all at university, but because I had absolute pitch and was good at learning languages by ear, and also I have a lot of interest in Russia, which was an unknown country for Japanese, I studied hard during my homestay and at the end I was able to support other foreign backpackers who were having trouble communicating in Russian.
(In former communist countries, speaking in Russian makes people very kind.)
*This is more than 10 years ago of experience of then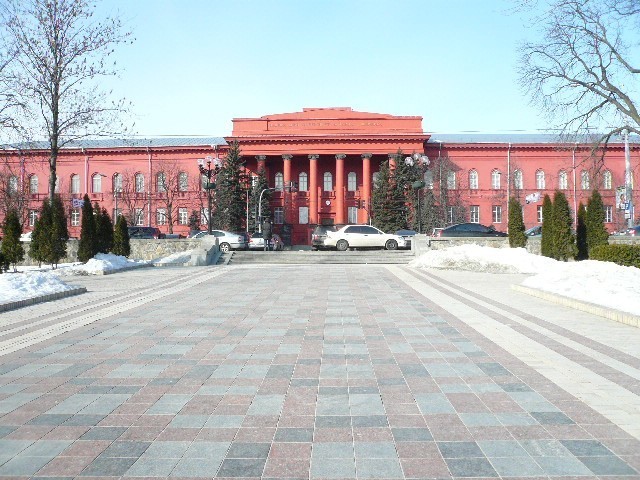 Buy a ticket from Moscow to Kiev
Kiev is the capital of Ukraine.
I took a night train from Moscow, Russia.
And then I bought the night train from Moscow in Russian at the ticket office in Moscow.
Train stations in Moscow have different buildings depending on the destination.
The stations for Kazakhstan and Ukraine are located in very different places.
When I went to the station, I was usually followed by a strange Russian guy….
Then there were few Japanese (I mean, Asians.), so I seemed to be rare.
In Russia, I was short cut hair and wore a hood so I didn't show what country I was from, partly because the security there was not very good then in Russia.
It takes about 12 hours by train from Moscow to Kiev.
I bought a ticket for the night train because it is scary to arrive in Ukraine at night, where I have never been.
The night train leaves at night and arrives in Kiev in the morning, so I can walk around the city during the day.
When I was buying a seat on a train to Kiev, I was talking to a ticket clerk and a Russian grandmother standing in a line one block behind me.
"HURRY UP!!!"
I was shouted by her then…..Russians are quite straight and emotional for us Japanese. If it is just after coming from Japan, I would have been scared, but after staying for a month, I got used to it.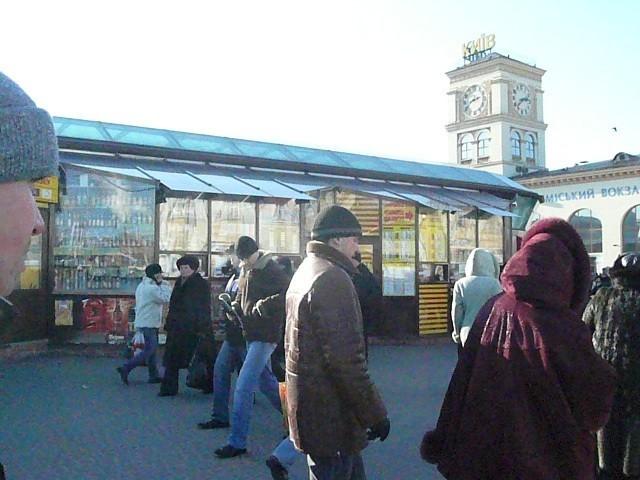 Take a train to Kiev
I tried to get on the train from Moscow station to Kiev.
However, suddenly then I was surrounded by Russian policemen on the platform just before I got on the train, and it seemed like it was rare for an Asian young girl to get on the train alone, and they may thought, "You're a spy."…
"I am a tourist! I'm a student in Tokyo!
(Ya Touristka! Studientka, Na Tokio!) "
I said that many times, and I managed to get on the train…..
The train was organized by compartments and in my compartment, two Russian women and one Ukrainian woman in the same compartment.
Everyone in my compartment they had big interest to me as Japanese.
When I spoke to them in Russian, they got very excited and we soon started drinking!
I am a pretty confident drinker (I've never been drunk.), but for this time, as they drank a glass of undiluted vodka and kept drinking, I quickly got very sleepy….
My head started spinning and I said "Go to bed first." and went to bed first.
Then, they thought, "Because she is sleeping, do not make a noise and stay quietly" and then I appreciate their kindness….
By the way, when this train approaches border, guys look like policemen/soldier took our passports from anyone, and when crossed the border, we should fill out a form, and gave it to these guys, and then come back with stamped passports.
The form were all written in Russian (There was some Russian I didn't know.), and then dear friends in my compartment kindly helped me to fill out,
"You can write like this here."
In addition, when a soldier seized my passport and looked at me with suspicious eyes, even they helped to pursuade these guys with saying
"She is not weird!!"
The immigration process went smoothly during my early sleep after I was drank with undiluted vodka.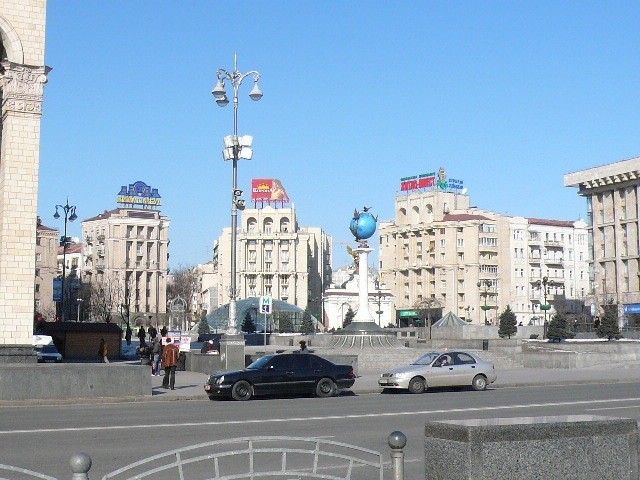 Arrive in Kiev
In the morning I arrived in Kiev.
Kiev was just a big city and capital of Ukraine.
It can be said to be in the eastern Europe (especially Russia), but the space between buildings is very wide!
And each building is very very big as my Japanese eyes!
I hadn't booked a hotel yet, so I first took the subway from the train station in Kiev to the central plaza where the hotels are located.
I think it was quite far from the train station to the central square.
And then I looked for a hotel.
"Can I have a room for today?"
I asked around these hotels in Russian, but I was surprised that there were some hotels that insisted "We do not have any vacancy" even though they seemed to have rooms available.
(This is not the only thing that seems to be strange which happened in the eastern Europe. As a Japanese, I found other strange things as well so often.)
I went around a number of hotels even though I was exhausted, and finally found a hotel and decided to stay there.
And I went out to buy dinner, so I went to a nearby restaurant, and from behind,
"Hey Japanese~~~~~!!!"
The strange Ukrainian young guys were shouting (I'm getting used to it.) and even chased me so I ran away again….
I do not know why, but there are not a few weird men chasing me when I was traveling these eastern Europe.
On the second day in Kiev, I got stomachache by the salad I bought at a nearby restaurant.
I have a pretty strong stomach, but unfortunately this salad badly damaged my stomach, and the next morning I was in the bathroom with heavy ache.
I was somehow struggling and jumping on a night train to Lviv,then….
Kiev is a really big city and it will probably take a few days to get around properly.
Like Russia, Ukraine has really big and amazing architecture and also art-related halls such as classical concert halls.
I stayed in Kiev for two days.
As for food, I would like to write in detail on the next article about "Lviv" which is the second largest city in Ukraine.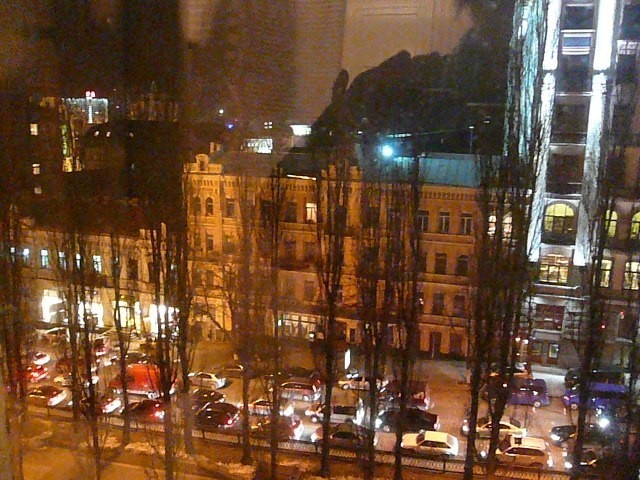 About sightseeing from Kiev to surrounding towns (Chernobyl, Odessa)
By the way, Ukraine has Chernobyl.
There is a site of the nuclear power plant accident. Surprisingly, Chernobyl is not an Exclusion Zone and you can go there by bus from Kiev.
"We are not responsible for any physical damage that you might get in Chernobyl."
There is only notice sign and you can go there freely.
I thought it was the great thing about the eastern Europe that something danderous from the Japanese way of view is usually within their reach …!
Actually I did not go to Chernobyl since just I was very scary for the damage.
Another place I wanted to go but I didn't have time to go was the scenic seaside town "Odessa".
There is a beach and it is famous as a summer resort.
However, in Ukraine 10 years ago, there were not many trains between Kiev and Odessa and it took almost 10 hours by one way. As a backpacker, I couldn't spend that much time in Ukraine alone, so I gave up going there, so I really hope to come back at the next time.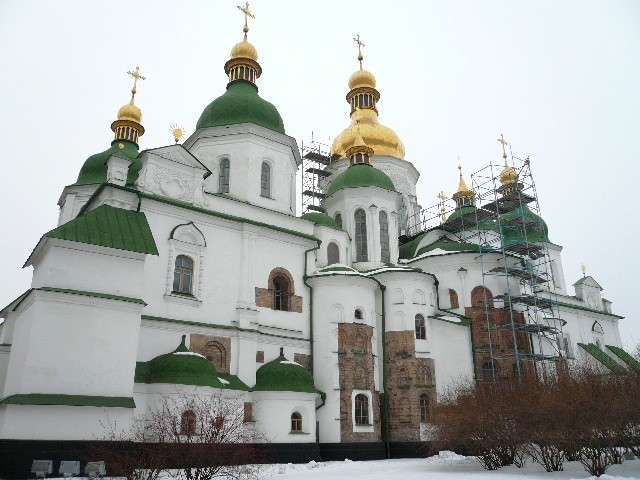 By the way, Ukraine is very big and the train was very slow.
Next, I will wrote about Lviv as below;
My Backpacker Travel : Ukraine, Lviv (2007)